India Post Payments Bank to be converted into SFB
The postal departmenthas decided to convert the India Post Payments Bank into a small finance bank.
This bank will providemicro credit at the doorsteps to individuals and SME's. The postal department has also targeted the milestone of 1crore accounts for IPPB in 100 days.
Crisil cuts India's GDP growth forecast
Ratings agency Crisil has cut its forecast for GDP growth in 2019-20 to 6.9% from its earlier forecast of 1%, citing weak monsoon, slow global growth and poor high-frequency data for the first quarter of the financial year.
MD and CEO of CRISIL- Ashu Suyash
India slips to 7th largest economy in 2018
India has been pushed to the seventh place in the global GDP.
The US remains the top economy with a GDP of $20.5 trillion, while China was the second Largest with $13.6 trillion and Japan took the third place with $5 trillion.


President of World Bank- David Malpass
 Headquarters- Washington DC, USA
 Established- 1944.
SBI becomes 1st Indian bank to link up with China's National Advance Payment System
The State Bank of India's Shanghai branch is now connected to China's National Advance Payment System (CNAPS), becoming the first Indian Bank to operationalise it.
The CNAPS, launched in 2008 by People's Bank of China (PBOC) provides real-time settlement services for all payments.
SBI Shanghai can also offer the real-time transfer of local funds within China by routing them through the PBOC.
Chairperson of SBI- Rajnish Kumar
 Headquarter- Mumbai
 Founded- 1 July 1955
RBI levies Rs 50 lakh fine on PNB
The Reserve Bank of India (RBI) imposed a fine of Rs 50 lakh on Punjab National Bank for delay in flagging the fraud in the account of Kingfisher Airlines.
Managing Director & Chief Executive Officer of PNB- Sunil Mehta.
NHAI Signs MoU With SBI for Long Term Unsecured Loan of Rs 25000 Crore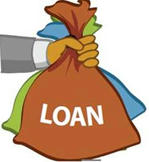 National Highways Authority of India (NHAI) is getting an unsecured loan of Rs 25,000 crore from State Bank of India for 10 years with 3 years of moratorium on
The amount sanctioned is an unprecedented disbursal amount by India's largest public sector bank to any entity.
Moreover, this is the largest amount of loan to have been sanctioned to NHAI in one stroke by any institution.
RBI imposes Rs 11 crore fine on 7 PSBs for violating norms
The Reserve Bank of India has imposed a collective penalty of Rs 11 crore on 7 public sector banks. The penalty has been imposed for non-compliance with certain provisions of directions issued by RBI on 'Code of Conduct for Opening and Operating Current Accounts.

The penalties on 7 banks are as follows:
Allahabad Bank and Bank of Maharashtra have been imposed with a penalty of Rs 2 crore
Bank of Baroda, Bank of India, Indian Overseas Bank and United Bank of India have been imposed with fines of Rs 1.5 crore
Oriental Bank of Commerce has been imposed with a penalty of Rs 1 crore.
RBI has also imposed a fine of Rs 1 crore on Corporation Bank.
Governor of RBI- Shaktikanta Das
Headquarters- Mumbai
 Founded- 1 April 1935, Kolkata
RBI reduces repo rate by 35 basis points in its 3rd Bi-monthly policy

In its 3rd Bi-monthly Monetary Policy Committee meeting, the Reserve Bank of India has reduced the policy repo rate by 35 basis points (bps). The MPC has also decided to maintain the accommodative stance of monetary policy.
The main decisions taken in the 3rd Bi-monthly Monetary Policy Committee meeting are:
The repo rate under the liquidity adjustment facility (LAF) was reduced from 75% to 5.40%. The benchmark rate is now at its lowest since April 2010.
The reverse repo rate under the LAF stands revised to 15%.
The marginal standing facility (MSF) rate and the Bank Rate revised to 65%.
RBI has also reduced the real GDP growth for 2019-20 from 7% to 9%.
RBI to set up "Central Payment Fraud Registry"
The Reserve Bank of India has decided to set up a "Central Payment Fraud Registry". The registry will track frauds in the payment systems.
Under this registry, payment system participants will be provided access to it for near-real time fraud monitoring. The aggregated fraud data will be published to educate customers on emerging risks.
Currently, banks report all banking frauds to the Central Fraud Monitoring Cell of the Reserve Bank of India.
SGX and NSE to operate jointly in GIFT City
SGX and NSE received approval from SEBI to operate jointly in Gujarat International Finance Tec (GIFT) City, the international finance city under the proposed programme 'connect'.
The two entities will create a new platform for trading called NSE International Financial Service Centre (IFSC)-SGX Connect.
Managing Director and CEO of NSE- Vikram Limaye.
Managing Director & CEO of GIFT City- Tapan Ray.
NEFT facility to be available 24×7 by December 2019
The Reserve Bank of India will make available the National Electronic Funds Transfer system on a 24×7 basis from December 2019 as per the Payment System Vision 2021 document.
Presently, the transfer of funds via NEFT can only be done during banks' working hours from 8am to 7pm. The move will revolutionize the retail payments system of the country.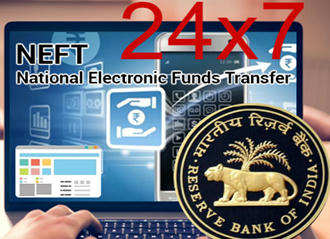 Mastercard launches identity check express to secure online transactions
Mastercard launches identity check express to secure online transactions.
Mastercard announced the launch of Identity Check Express, a next-generation, mobile-first authentication solution that aims to redefine the e-commerce journey for Indian consumers.
Mastercard Identity Check Express combines the latest technology, including device intelligence and behavioural biometrics, with the latest EMV 3-D Secure and FIDO authentication standards.
President and Chief Executive Officer of Mastercard- Ajay Banga.
ADB to provide $200 million for rural road project in Maharashtra
Asian Development Bank (ADB) has approved a USD 200 million loan for improving road infrastructure in 34 districts of
The aim of the project is to connect rural areas with markets and services. Roads in rural areas would be upgraded to all weather standards which will boost links between local residents and economic centres across the state.
RBL Bank launches India's first health-focused credit card
Private sector bank,RBL Bank and digital healthcare platform Practo have partnered to launch an industry-first co-branded health credit card. This credit card is powered by Mastercard.
Managing Director & CEO of RBL Bank- Vishwavir Ahuja
Headquarter- Mumbai.
AePS crosses 200 million transactions in July: NPCI
The umbrella body for digital transactions, NPCI, announced that Aadhaar enabled Payment System (AePS) crossed the milestone of over 200 million transactions during July 2019.
AePS is a bank led model which allows basic interoperable banking transactions at point of sale (PoS or MicroATM) through the business correspondent of any bank by using Aadhaar authentication.
MD & CEO of NPCI- Dilip Asbe.
EnKash Launched India's first Corporate Credit Card for SME's
EnKash a card focused Fin-tech startup, has launched the EnKash "Freedom Card", India's FIRST Corporate Credit Card for SMEs/ MSMEs and Startups.
The card offers a short duration revolving credit limit for companies to fulfil all business payments.
India's retail Inflation
India's retail inflation rate in July grew 3.15 percent. Remained comfortably within Reserve Bank of India's (RBI) target level of 4 percent.
Budget scheme for liquidity support to NBFCs rolled out
The Central government has rolled out scheme for liquidity support to NBFCs.The partial guarantee scheme will allow state-run banks (PSBs) to purchase assets of non-banking and housing finance companies (NBFCs and HFCs).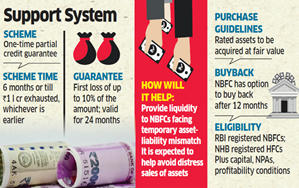 NBFCs will have to pay a fee to the government, at 0.25% per annum of the fair value of assets sold to banks. They will be able to sell 20% of standard assets, worth up to Rs 5,000 crore, as on March 31.
The Department of Economic Affairs will provide government guarantee of up to 10% of the fair value of assets purchased by a bank from a stressed NBFC or HFC. The scheme is capped at Rs 1,00,000 crore and will be open for up to 6 months.
India's forex reserves reaches life-time high of $430.57 billion
India's forex reserves had reached the highest ever valuation of $430.57 bn. As per the latest RBI data, India's foreign exchange reserves increased by $1.620 billion in the week to 9 August due to rise in foreign currency assets.
Foreign currency assets expressed in dollar terms includes the effect of appreciation/depreciation of non-US units like the euro, pound and yen held in the reserves.
Governor of RBI- Shaktikanta Das
 Headquarters- Mumbai
Founded- 1 April 1935, Kolkata.
RBI allows e-mandate for cards for recurring transactions
The Reserve Bank permitted processing of e-mandate on credit and debit cards for recurring transactions (merchant payments) with a cap of Rs 2,000.
The maximum permissible limit for a transaction under the e-mandate facility on cards would be Rs 2,000.
The RBI added that no charges should be levied or recovered from the cardholder for availing the e-mandate facility on cards for recurring transactions.
Governor of RBI – Shaktikant Das
Headquarters – Mumbai
Founded – 1 April 1935, Kolkata.India to launch e-commerce portal "Bharatcraft" for MSME's
The government is planning to launch an e-commerce marketing platform, called 'Bharatcraft' for micro small and medium enterprises (MSME), said Union Minister Nitin Gadkari. The platform is being built on the lines of Alibaba and Amazon to help MSMEs market and sell their products.
The minister said MSME sector is likely to contribute 50 per cent to the total GDP in the next five years.
As per the MSME Union Minister, the Bharatcraft portal has a huge potential to generate revenue worth ₹10 lakh crore in the next 2-3 years.
Acko partners with ZestMoney to offer credit insurance
Acko General Insurance, an insurtech company, has partnered with ZestMoney, a consumer lending fintech, to offer credit insurance.
This insurance will help ZestMoney customers cover their monthly EMI payments during times of crisis.
ZestMoney offers instant financing to consumers across 1000+ online portals and provides them the option of paying through EMIs even if the consumers don't own a credit card.
CEO of Acko General Insurance – Varun Dua
CEO of ZestMoney – Lizzie Chapman
SEBI announces Rs 1 crore reward for insider trading informants
The Securities and Exchange Board of India (SEBI) has announced a reward of upto one crore rupees for reporting a company fraud or insider trading cases and also proposed a possible amnesty or settlement for minor wrongdoings in return for cooperation in the probe.
These benefits would only be available to individuals and corporates.
SEBI Headquarter – Mumbai
 Chairman – Ajay Tyagi

Bandhan Bank launches a co-branded credit card with Standard Chartered

Bandhan Bank launched a co-branded credit card in association with Standard Chartered bank. The credit card would be offered to 40 lakh savings bank account holders across the 1,000 branches of Bandhan Bank.
MD & CEO of Bandhan Bank- Chandra Shekhar Ghosh
Headquarter- Kolkata
CEO of Standard Chartered Bank- Zarin DaruwalaIndian Bank signs MoU with Tata AIG
The public sector Indian Bank signed a Memorandum of Understanding (MoU) with Tata AIG General Insurance, a leading private sector insurance player, to offer a variety of general insurance products to its customers.
This MoU offers a variety of general insurance policies that benefit the bank's customers through security, wealth creation and savings. Tata AIG General Insurance will work with the bank to ensure sales training, product support and smooth operating procedures.
RBI to transfer Rs 1.76 lakh crore surplus reserves to government
Because of the slowing economic growth and rising global uncertainty, the Reserve Bank of India (RBI) board approved transfer of Rs 1.76 lakh crore surplus reserves to the central government.
The surplus transfer, which is 25 per cent of the GDP (2018-19), comprises of Rs 1.23 lakh crore of surplus for 2018-19 and Rs 52,637 crore of excess provisions identified as per the revised Economic Capital Framework (ECF).
Canara Bank launches OTP facility for ATM cash withdrawals
Public sector lender Canara Bank has launched the first OTP facility for ATM withdrawals of Rs 10,000 or more in a day.
Aim to offer a more secured and safe system.Ind-Ra cuts GDP growth forecast in FY20 to 6.7%
India Ratings lowered the country's growth forecast to six year low of 7 per cent for the current fiscal from an earlier estimate of 7.3 per cent, because of the slowdown in consumption and moderation in industrial growth among other factors.
It expects GDP growth to recover to 4% in the second half of the financial year 2019-20.
Government announces Mega Merger of Public Sector Banks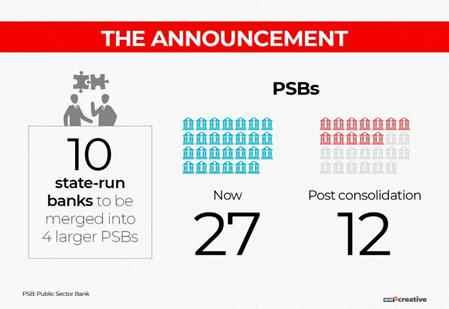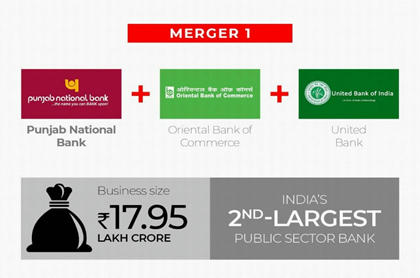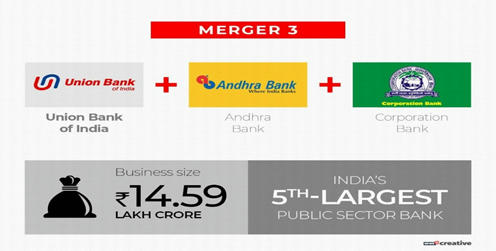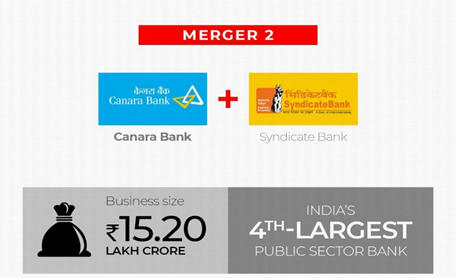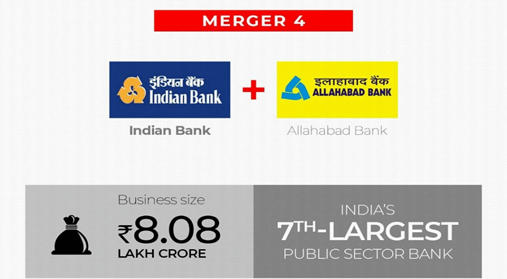 Make Notes