Human Development Index
2019 Human Development Index by the United Nations Development Programme (UNDP).
India inched up one spot to rank 129th out of 189 countries.
Inequality and deprivation continue to be high in India.
India's development initiatives are crucial in ensuring that we meet our promise to leave no one behind.
India managed to lift 27.1 crore people out of poverty from 2005-06 to 2015-16
The steady progress was due to nearly three decades of rapid development, which had seen a dramatic reduction in absolute poverty, along with gains in life expectancy, education, and access to health care.
South Asia was the fastest growing region witnessing 46% growth during 1990-2018, followed by East Asia and the Pacific at 43%.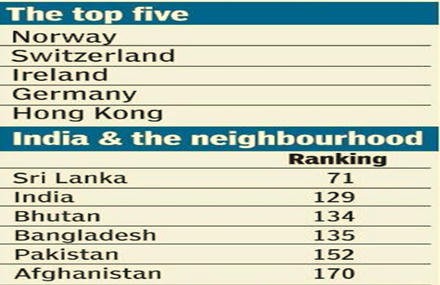 Global Gender Gap Index 2020
2020: 112th India slips 4 ranks.
World Economic Forum's Global Gender Gap Index 2020 covers 153 economies.
It will take nearly 100 years to close the gender gap across politics, economic, health and education.
India has closed two-thirds of its overall gender gap (score of 66.8%).
The condition of women in large fringes of India's society is precarious.
Some countries ranked lower than India have improved more.
Among the 153 countries studied, India is the only country where the economic gender gap is larger than the political gender gap.
Make Notes