DRDO successfully conducts captive and release trial of SAAW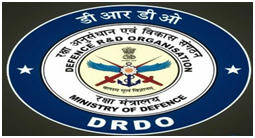 In yet another milestone, DRDO successfully conducted captive and release trials of indigenously developed Smart Anti-Airfield Weapon SAAW from Hawk-I of Hindustan Aeronautics Limited (HAL) off the Odisha coast.The smart weapon was successfully test-fired on 21 Jan from Indian Hawk-Mk132 of HAL.
This was the ninth successful mission of SAAW conducted by DRDO till now.
It was a textbook launch, which met all mission objectives.
Coastal Defence Exercise Sea Vigil 21

The second edition of the biennial pan-India coastal defense exercise 'Sea Vigil-21' has started.
To check the efficacy of the measures initiated to plug gaps in coastal security following the Mumbai terror attack in 2008.
Multiple initiatives were set forth, including the National Committee for Coastal and Maritime Security (NCSMCS), creation of Joint Operations Centres (JOC) at Mumbai, Cochin, Visakhapatnam, and Port Blair, raising of Sagar Prahari Bal (SPB), installation of the Harbour Defence Surveillance System, setting-up of National Command Control Communication and Intelligence (NC3I) Network.
Chief of Naval Staff: Admiral Karambir Singh.
Indian Navy Founded: 26 January 1950.
DRDO hands over MotorBike Ambulance Rakshita to CRPF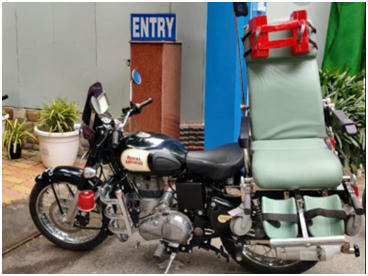 Defense Research and Development Organisation handed over MotorBike Ambulance Rakshita to the Central ReservePolice Force (CRPF). Institute of Nuclear Medicine and Allied Sciences (INMAS), Delhi-based DRDO laboratory, handed over Rakshita, a bike-based casualty transport emergency vehicle to CRPF  in a ceremony held at CRPF Head Office in New Delhi.
Director-General of CRPF Dr. A P Maheshwari flagged off the contingent of 21 bikes on the occasion. The bike ambulance will help in overcoming the problems faced by Indian security forces and emergency health care providers. The bike ambulances will provide life-saving aid for the evacuation of injured patients from low-intensity conflict areas.
Director-General of CRPF: Dr. A P Maheshwari.
Secretary Department of Defence Research and Development & Chairman DRDO: Dr. G Satheesh Reddy.
DRDO Headquarters: New Delhi.
DRDO Established: 1958.
Defence Secretary co-chairs 13th India-Vietnam Defence Security Dialogue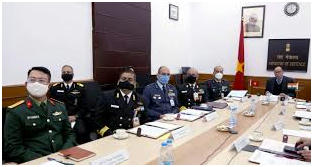 Defense Secretary Dr. Ajay Kumar co-chaired the 13th India-Vietnam Defence Security Dialogue along with his Vietnamese co-chair Sr Lt Gen Nguyen Chi Vinh, Deputy Defence Minister of Vietnam. 
During virtual interaction, both of them expressed satisfaction at the ongoing defense cooperation between the two countries despite the limitations imposed by COVID 19.
New areas of defense cooperation were also discussed.
They expressed satisfaction at the growing defense ties between the two countries.
Indian Air Force, French Air and Space Force to conduct bilateral air exercise at Jodhpur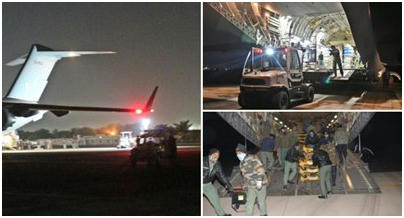 Indian Air Force and French Air and Space Force will conduct a bilateral Air exercise, Ex Desert Knight-21 at Air Force Station Jodhpur starting on 20 Jan.
The French side will participate with Rafale, Airbus A-330 Multi-Role Tanker Transport (MRTT), A-400M Tactical Transport aircraft, and approximately 175 personnel.
The Indian Air Force aircraft participating in the exercise will include Mirage 2000, Su-30 MKI, Rafale, IL-78 Flight Refuelling Aircraft, AWACS, and AEW&C aircraft.
Defence Secretary Ajay Kumar inaugurates Swachhata Pakhwada organized by NCC at India Gate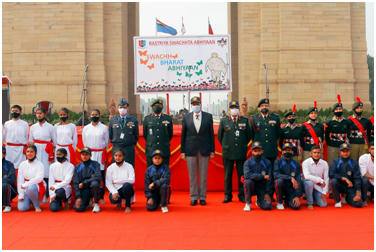 Defence Secretary Ajay Kumar inaugurated Swachhata Pakhwada organized by National Cadet Corps, NCC at India Gate. The theme of this Swachhata Pakhwada is 'Clean India, Green India, Yeh Hai Mera Dream India'.
Speaking on the occasion, Dr. Ajay Kumar said that NCC is the largest uniformed youth organization in the world. He said it has contributed immensely towards nation-building, through activities such as 'Ek Bharat, Shrestha Bharat' and Special National Integration Camps, Leadership and Personality Development, and Swachhata Abhiyan Programmes.
Make Notes