Cabinet decisions on crops
Cabinet on approved rather modest increases of 1-9% for 14 kharif crops for the 2019-20 seasons. Government has ensured that benchmark prices stay at least 150% of the production cost.
Cabinet approved Bill on Wage Code. This move can extend the benefit of obligatory minimum wages to all workers not just those in 'scheduled employments' as at present.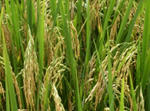 Make Notes