Services sector shrinks
Services sector, the dominating area of the country's economy, shrank for the first time in 13 months in June, due to weak sales and high taxation, showed the widely-tracked Nikkei purchasing managers' index (PMI).
PMI fell to 6 points in June, down from 50.2 in May.
PMI parlance, a point above 50 means expansion, while a score below that denotes contraction.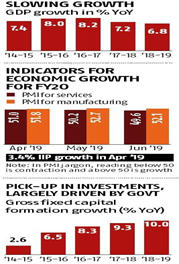 Tejas Express
In a first for Indian Railways, a private player will operate two new trains the 1st is Delhi-Lucknow Tejas Express.
"These two trains will be given on an experimental basis and will start running within 100 days.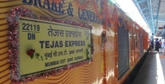 Indian Railways announced the Tejas Express in
The train will be handed over the private players after an open bidding process for operationalisation.
The new Tejas Express train will have 23 chair cars and executive class coaches. The first Tejas train is running between Mumbai and Goa since 2017.
Penalty on telecom
Penalty on Telcos by Telecom Regulatory Authority of India (TRAI) of Rs 3,050 crore.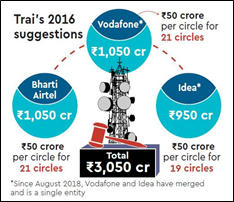 DCC approved TRAI's proposal for imposing penalty on operators like Bharti Airtel, Vodafone and Idea for not providing sufficient points of interconnection to RJio in 2016 when it had commenced operations.
Final call needs to be taken by Digital Communications Commission (DCC).
DCC is the highest decision-making body of the department of telecommunications.
Government waives duty on products imported for nuclear plants
With rising focus on reducing dependency on carbon-based fuel for electricity generation, the government has waived off basic customs duty (BCD) for a clutch of products which are imported for nuclear power plants and allocated more funds in atomic energy research.
"All goods for use in generation of nuclear power" and "all forms of uranium ores and concentrates for generation of nuclear power", which earlier attracted BCD of 5% and 2.5% respectively, will now have to pay no such duty.
The present installed nuclear power capacity of 6,780 MW is seen to reach 13,480 MW by
Industrial growth
Industrial production grew at 1% per cent in May.
The Index of Industrial Production (IIP) has expanded by 8% in May 2018.
The expansion in power generation sector stood at 4% compared to 4.2% in the year-ago month.
Mining growth was at 2% in May as against 5.8 %.
RIL's becomes top-ranked Indian company in Fortune Global list
Reliance Industries ltd has jumped 42 places to become the highest-ranking Indian firm on the Fortune Global 500 list.
Reliance Industries replace Indian Oil Corporation. RIL's present ranking in the list 106 and IOC's ranking in the list 117.
Founder of Reliance Industries Ltd- Dhirubhai Ambani.
CEO- Mukesh Ambani
Make Notes