Miscellaneous
Topic in News
New Education Policy 2020 – Complete Analysis
Why in news?
Recently, the National Education Policy (NEP) 2020 was announced by the Ministry of Human Resource Development (soon to be called the Ministry of Education). The policy is aimed at transforming the Indian education system to meet the needs of the 21st Century.
Education Policy of 1968
India's education system gets an overhaul after 34 years.
This is the third NEP after policies that came in 1968, and 1986. Though the government amended the 1986 policy in 1992, it was largely the same.
Based on the report and recommendations of the Kothari Commission (1964–1966), the government of Prime Minister Indira Gandhi announced the first National Policy on Education in 1968, which called for a "radical restructuring" and proposed equal educational opportunities in order to achieve national integration and greater cultural and economic development.
Spending 6% of GDP on education
The country spent less than 3% of its total GDP on education in 2018-19 or about 5.6 lakh crore.
"India ranks 62nd in total public expenditure on education per student and measures of the quality of education(pupil-teacher ratio) in primary and in secondary education,"
In 1964, the Kothari Commission had recommended a 6 % allocation of 6 % of GDP, but India never spent 6% of GDP on education since Independence.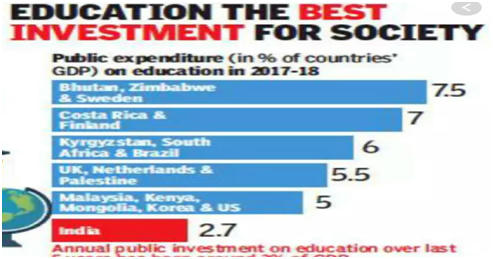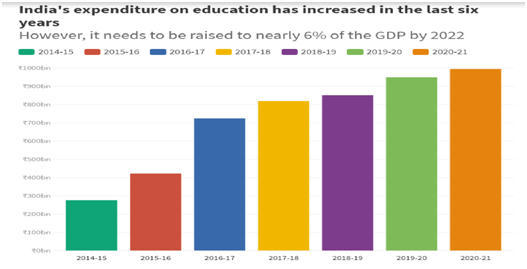 Consultations
NEP 2020 has been formulated after an unprecedented process of consultation that involved nearly over 2 lakh suggestions from 2.5 lakh Gram Panchayats, 6600 Blocks, 6000 ULBs, and 676 Districts.
In May 2016, 'Committee for Evolution of the New Education Policy' under the Chairmanship of Late Shri T.S.R. Subramanian, Former Cabinet Secretary, submitted its report. Based on this, the Ministry prepared 'Some Inputs for the Draft National Education Policy, 2016'.
In June 2017 a 'Committee for the Draft National Education Policy' was constituted under the Chairmanship of eminent Scientist Padma Vibhushan, K. Kasturirangan, which submitted the Draft National Education Policy, 2019 to the Hon'ble Human Resource Development Minister on 31st May 2019.
Mother tongue, local or regional language as the medium of instruction at least till Grade 5, but preferably till Grade 8 and beyond.
No language will be imposed on any student.
This is a controversial decision as some education experts believe that emphasis should be on English as it opens doors to the world.
Key takeaways of NEP 2020
Digital Education
An autonomous body, the national educational technology forum,will be created for the exchange of ideas on the use of technology to enhance learning, assessment, planning, and administration.
Separate technology unit to develop digital education resources.The new unit will coordinate digital infrastructure, content, and capacity building.
Teacher Education
By 2030, the minimum degree qualification for teaching will be a four year integrated B.Ed.
Teachers will also be given training in online educational methods relevant to the Indian situation in order to help bridge the digital divide.
Allowing Foreign Universities
The document states universities from among the top 100 in the world will be able to set up campuses in India.
This will lead to an infusion of international perspective and innovation, which will make the Indian education system more efficient and competitive.
Ending Hindi vs English Debate
Most crucially, NEP, once and for all, buries the strident Hindi versus English language debate; instead, it emphasises on making mother tongue, the local language, or the regional language the medium of instruction at least till Grade 5, which is considered the best medium of teaching.
School education
The new NEP focuses on overhauling the curriculum and easier Board exams.
It also focused on a reduction in the syllabus to retain core essentials and thrust on experiential learning and critical thinking.
It pitches for a "5+3+3+4" design of school education in the place of a "10+2"
This design will be corresponding to age groups 3-8 years (foundational stage), 8-11 (preparatory), 11-14 (middle), and 14-18 (secondary).
This brings early childhood education (pre-school education for children of ages 3 to 5) under the ambit of formal schooling.
The mid-day meal programme will be extended to pre-school children.
The NEP says students until Class 5 should be taught in their mother tongue or regional language.
Higher education
New umbrella regulator for all higher education except medical, legal courses.
The NEP proposes to open up Indian higher education to foreign universities.
It also aims to double the Gross Enrolment Ratio in higher education, including vocational education, from 26.3% in 2018 to 50% by 2035, with an additional 3.5 crore new seats.
It proposes to dismantle the UGC and the All India Council for Technical Education (AICTE).
It proposes to introduce a 4-year multidisciplinary UG programme with multiple exit options and discontinuation of the MPhil programme.
An Academic Bank of Credit will be set up to make it easier to transfer between institutions.
College affiliation system to be phased out in 15 years, so that every college develops into either an autonomous degree-granting institution or a constituent college of a university.
It also proposes phasing out of all institutions offering single streams.
It says that all universities and colleges must aim to become multidisciplinary by
The National Testing Agency, "will serve as a premier, expert, autonomous testing organisation to conduct entrance examination in higher educational institutions."
This is expected to be a means of "drastically reducing the burden on students, universities, and colleges, and the entire education system."

That instead of an overarching centralised agency, an innovative educational policy would attempt to create space for context-specific and diverse modes of evaluation for different fields of learning is a possibility that remains unexplored.
Multilingualism and the power of language
The policy has emphasized mother tongue/local language/regional language as the medium of instruction at least till Grade 5, but preferably till Grade 8 and beyond.
Sanskrit to be offered at all levels of school and higher education as an option for students, including in the three-language formula. Other classical languages and literature of India also to be available as options.
No language will be imposed on any student. Students to participate in a fun project/activity on 'The Languages of India', sometime in Grades 6-8, such as, under the 'Ek Bharat Shrestha Bharat' Several foreign languages will also be offered at the secondary level.
Indian Sign Language (ISL) will be standardized across the country and National and State curriculum materials developed, for use by students with hearing impairment.
Equitable and Inclusive Education
NEP 2020 aims to ensure that no child loses any opportunity to learn and excel because of the circumstances of birth or background. Special emphasis will be given on Socially and Economically Disadvantaged Groups (SEDGs) which include gender, socio-cultural, and geographical identities, and disabilities. This includes setting up of Gender Inclusion Fund and also Special Education Zones for disadvantaged regions and groups.
Children with disabilities will be enabled to fully participate in the regular schooling process from the foundational stage to higher education, with support of educators with cross-disability training, resource centres, accommodations, assistive devices, appropriate technology-based tools, and other support mechanisms tailored to suit their needs.
Every state/district will be encouraged to establish "Bal Bhavans" as a special daytime boarding school, to participate in art-related, career-related, and play-related activities. Free school infrastructure can be used as Samajik Chetna Kendras.
Efforts will be made to incentivize the merit of students belonging to SC, ST, OBC, and other SEDGs.
The National Scholarship Portal will be expanded to support, foster, and track the progress of students receiving scholarships.
Multi-discipline
An attractive and flexible proposition, allowing learners to experiment with a variety of options.
Departments in Languages, Literature, Music, Philosophy, Indology, Art, Dance, Theatre, Education, Mathematics, Statistics, Pure and Applied Sciences, Sociology, Economics, Sports, and other such subjects needed for a multidisciplinary, stimulating Indian education and environment will be established and strengthened at HEIs across the country.
The areas which are missing out are fields of studies such as-

Women's Studies or Gender Studies, Cultural Studies, Media Studies, Studies of Discrimination and Exclusion, Environmental Studies and Development Studies, all of which have developed over the last three or four decades.
School Governance
Schools can be organized into complexes or clusters which will be the basic unit of governance and ensure availability of all resources including infrastructure, academic libraries, and a strong professional teacher community.
Standard-setting and Accreditation for School Education

NEP 2020 envisages clear, separate systems for policymaking, regulation, operations, and academic matters. States/UTs will set up an independent State School Standards Authority (SSSA).
Transparent public self-disclosure of all the basic regulatory information, as laid down by the SSSA, will be used extensively for public oversight and accountability.
The SCERT will develop a School Quality Assessment and Accreditation Framework (SQAAF) through consultations with all stakeholders.
The New Education Policy has a great vision towards Higher Education sector as well
Way forward
A New Education Policy aims to facilitate aninclusive, participatory, and holistic approach, which takes into consideration field experiences, empirical research, stakeholder feedback, as well as lessons learned from best practices.
It is a progressive shift towards a more scientific approach to education. The prescribed structure will help to cater to the ability of the child – stages of cognitive development as well as social and physical awareness. If implemented in its true vision,the new structure can bring India at par with the leading countries of the world.
Strive for universalizing education-The development of 'inclusion funds' is required to help economically and educationally disadvantaged children achieve their education.

There is also a need to create a regulatory mechanism that will be able to test profiteering from education in the form of uncounted donations.

Bridging Digital Divide- If technology is a force-multiplier, it can also deepen the gap between the haves and have not's with unequal access.

The state must, therefore, resolve the disturbing gaps in access to digital resources to universalize education.

As education is a concurrent subject, the proposed changes can only be enforced by the Center and the states collaboratively.
The Centre has the giant task of building a consensus on the many ambitious plans.
Conclusion
The new National Education Policy (NEP) 2020 is a positive strategy, as it seeks to make the education system comprehensive, scalable, multidisciplinary, consistent with 21st-century needs, and the Sustainable Development Goals for 2030. Politics' purpose seems to be perfect in several respects, but the secret to success lies in the execution.
The challenge is to implement this policy in letter and spirit. There is a need to create comprehensive, efficient, and realistic guidelines and frameworks.
Make Notes