Upcoming Budget 2019 likely to be
Nirmala Sitharaman, India's 1st full-time woman Finance Minister will also be in charge of corporate affairs.
She will present first full budget of the new Modi government on July 5.
The upcoming budget will likely allocate a capital of Rs 4,000 crore for infusion into three state-run general insurance firms, to shoring up the solvency of these insurers.

National Insurance Company
Oriental Insurance Company
United India Insurance Company
An announcement is also expected in the Budget on July 5, that the government may infuse around Rs 40,000 crore into state-run lenders in 2019-20.
Government may provide about Rs 30,000 crore for the capital needs of state-owned banks.
This Capital will be used to support credit growth and help some weaker banks maintain regulatory norms.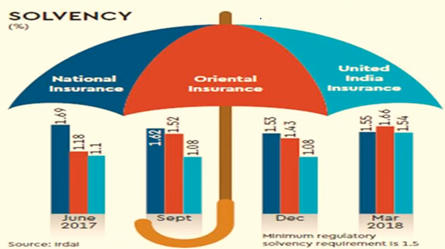 Nirmala Sitharaman- Former Defence Minister.
On 31 May 2019, she was appointed as the finance and corporate affairs minister.
The Interim Budget which was presented by Piyush Goyal on February 1st2019 was the last Budget of the NDA government led by Prime Minister Narendra Modibefore the Lok Sabha elections.
GDP growth dips/low in FY19
India's economy grew slower than expected to a 20-quarter low in the January-March 2019 period.This is the 1st big challenge for Modi 0.
RBI may cut interest rates further next week to bolster the flagging economy.NBFC Stress Hurt Q4 Numbers.
Agriculture contracted to 1% in the fourth quarter, Manufacturing slowed to 3.1%, India's per-capita income increased to 10%.
(The per-capita income is an indicator of the prosperity of a country).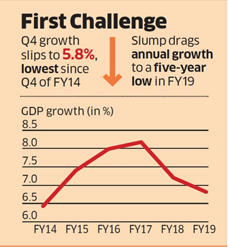 NPA crisis
Operating losses of over Rs 50,000 crore in the March Quarter.
Gross non-performing loans at the end of March : Rs 7.7 lakh crore
Credit exposures could turn toxic in sectors such as agriculture, real estate and NBFCs.
In last 2 years, government has infused Rs 2 lakh crore.
A large part of which has been used to increase provisioning and given the elevated credit costs.
Bank of Baroda's credit-deposit ratio 2017 was just 64% and rose to 72% in 2018.
ICICI Bank's CD ratio was 95 and 91% in the two years.
Big Bank theory
Oriental Bank of Commerce (OBC) is going to merge with Indian Bank and Corporation Bank.
The merger, if implemented, will be part of the government's efforts to create a few but strong banks with much large balance sheet to support the rising credit appetite of the fast-growing economy and enable optimum utilization of resources.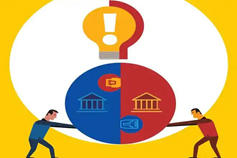 Oriental Bank of Commerce founded in- 1943
MD & CEO –Mukesh Kumar Jain
Headquarter- Gurugram
Indian Bank founded in – 1907
MD & CEO – Padmaja Chunduru
Headquarter- Chennai
Corporation Bank founded in- 1906
MD& CEO –V. Bharathi
Headquarter- Mangalore, Karnataka
Global Economic Prospects
As per World Bank India's growth rate is at 5% for the current financial year. Growth rate is expected to remain the same for the next two fiscals.
Private consumption and investment will benefit from strengthening credit growth amid more accommodative monetary policy, with inflation having fallen below the Reserve Bank of India's target.
The contribution of exports to economic activity is expected to remain weak with moderate global trade growth.
Goods and Services Tax (GST) regime is still in the process of being fully established, creating some uncertainty about projections of government revenues.
The World Bank is an international financial institution that provides interest-free loans and grants to the governments of poorer countries for the purpose of pursuing capital projects.
It comprises two institutions: the International Bank for Reconstruction and Development (IBRD), and the International Development Association (IDA).
Formation- 1945
Headquarter- Washington D.C.
RBI's monetary policy
In the Second bi-monthly policy the Repo Rate reduced by 25bps to 75 percent for third time in a row. Reverse Repo Rate now stands at 5.50 per cent.
Marginal Standing Facility (MSF) rate 6 per cent.
Cuts GDP growth forecast to 7 percent from 7.2 percent for FY20.
Sets up a panel to review ATM charges, fees levied by banks.
Waives RTGS and NEFT charges to promote digital transactions.
Raises retail inflation forecast for April-September to 3-3.1 per cent and 3.4-3.7 per cent on October-March.
Fitch Lowers India's FY20 growth forecast
Fitch lower India's current fiscal for the second time in a row to 6% because of manufacturing and agriculture sectors showed signs of slowing down.
Earlier in March it lowered the growth estimate for 2019-20 to 8% per cent, from 7 percent.
RBI has projected a growth rate of 7 per cent for the current fiscal.
RBI sets up a Panel to study MSMEs The Reserve Bank of India had set up an eight member expert committee under the leadership of former chairman of SEBI, UK Sinhato suggestthe long-term solutions for the economic and financial sustainability of the micro, small and medium enterprises (MSME) also study the impact of the recent economic reforms on the sector and identify the structural problems affecting its
RBI- "The committee will examine the factors affecting the timely and adequateavailability of finance to the MSME sector."
Next level of financial inclusion
By revamping some of the key schemes to widen their coverage and target the beneficiaries better, Modi 2.0 government is seeking to graduate to the next level of Financial Inclusion.
In Pradhan Mantri Jan Dhan Yojana (PMJDY) 36 crore zero-balance accounts for the poor.
A Jan Dhan account holder is provided a RuPay debit card, which has an in-built accidental insurance of Rs 2 lakh and a life cover of Rs 30,000. It can be raised up to Rs 50,000.
The Mudra loan limit for small and budding entrepreneurs could at least be doubled from the current level of Rs 10 lakh.
A facility for entrepreneurs to avail loan up to Rs 50 lakh without any guarantee.
The goal now is to ensure the poor have access to affordable credit.
Pradhan Mantri Jan Dhan Yojana (PMJDY), is financial inclusion program of Government of India which is applicable to 25 to 65 years age group, that aims to expand and make affordable access to financial services such as bank accounts, remittances, credit, insurance and pensions.
Launched on- 28 August 2014
The Pradhan Mantri MUDRA Yojana (PMMY) is a scheme launched by the Union Government on April 8, 2015 for providing loans upto 10 lakh (around US$15,000) to the non-corporate, non-farm small/micro enterprises.
Types of Loans under Pradhan Mnatri MUDRA Yojana-
Shishu : covering loans upto 50,000/-
Kishor : covering loans above 50,000/- and upto 5 lakh
Tarun : covering loans above 5 lakh and upto 10 lakh
Jammu and Kashmir Bank now under RTI, CVC guidelines 
The Jammu and Kashmir Bankwill now come under the purview of Right to Information Act and Central Vigilance Commission (CVC) guidelines as per the decisions taken by the Board of Directors of the Jammu and Kashmir Bank to ensure greater transparency and
Interim Chairman: R K Chibber
Headquarters: Srinagar, Jammu & Kashmir
Founded: 1938.
Canara Bank updates rules for cash deposits of up to Rs 50,000
From July 1, Canara Bank customerscan deposit cash of up to Rs 50,000 for free only thrice a month.
From the fourth transaction or for cash deposits of over Rs 50,000, there will be a service charge of Rs 1 per thousand, with a minimum of Rs 50 and a maximum of Rs 5,000 plus GST.
Canara Bank Chairman: T.N. Manoharan; Headquarters: Bengaluru
MD & CEO of Canara Bank: R.A. Sankara Narayanan
Competition Commission of India (CCI)has approved the merger of the Indiabulls Housing Finance and Lakshmi Vilas Bank.
Lakshmi Vilas Bankis going to merge with Indiabulls Housing Finance in a share swap deal with intent to create a combined entity with a larger capital base and wider geographical reach.
MD & CEO of Lakshmi Vilas Bank:Parthasarathi Mukherjee.
RBI advises commercial banks to adopt Education Loan Scheme
The Reserve Bank of Indiahas advised all Scheduled Commercial Banks to adopt Education Loan Scheme, formulated by Indian Banks Association.
 features of the Scheme-
Loan upto Rs 10 lakh for study in India and upto Rs 20 lakh for study abroad.
Collateral free loans upto Rs 7.5 Lakh under the Credit Guarantee Fund Scheme for Education Loans (CGFSEL).
No Margin for loan up to Rs 7.50 Lakh.
Repayment period of 15 years.
One Year Moratorium for repayment after completion of studies in all cases.
Moratorium taking into account spells of unemployment/under employment, say two or three times during the life cycle of the loan.
Moratorium for the incubation period if the student wants to take up a start-up venture after graduation.
Cross-border payments
RBI relaxed its April 2018 circular, mandated that all payments data generated in India be stored within the country.
The central bank has now allowed such international firms to store data abroad in cases where the transaction originates in the country but gets completed overseas.
A mirror copy of such transactions are stored in India.
Indian Money in Swiss Banks
As per Swiss National Bank data, Money parked by Indian individualsand enterprises in Swiss banks fell by nearly 6 per cent in 2018 to 955 million Swiss francs (about Rs 6,757crore), second-lowest level in over two decades.
Aggregate funds of all foreign clients of Swiss banks also fell by over 4 per cent to CHF 1.4 trillion (nearly Rs 99 lakh crore) in 2018.
Finance ministry seeks lower saving interest rates
Union Finance Ministry has demanded the social security and pension fund cuts the 8.65 percent annual return from 8.55 percent in the previous year.
The reason is-
The yield may not be justified given the fund's performance.
High return would hurt the economy by reducing banks' ability to lend at attractive rates.
DID YOU KNOW?
First time in India, Service of ATMs was started in 1987. First of all, Hong Kong and Shanghai banking Corporation (HSBC) had installed ATM machine in Mumbai.
The first floating ATM was installed in Kochi, Kerala. This ATM machine was installed by State Bank of India. It was supervised by the Kerala Shipping & Inland Navigation Corporation (KSINC) Company.
Make Notes