Emission Trading Scheme by Gujarat Government
Gujarat government launched a pilot of the Emission Trading Scheme for Particulate Matter (ETS-PM), First-of-its-kind project in the world, to curb air pollution.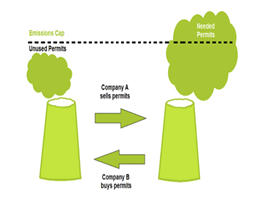 The traded commodity under the scheme will be kilogram mass of particulate emissions as measured by the continuous emissions monitoring system. The industries emitting lower than the permitted emissions will have permits to sell, whereas those emitting higher than the permitted emissions will buy the permits from other units.
The buyer industry will pay charges for exceeding permitted emission limit, while the seller industry will be rewarded for having reduced emissions.
Rajasthan government increases financial aid given to girls under 'AapkiBeti' scheme
Rajasthan government has increased the financial assistance given to school girls under the 'AapkiBeti' scheme and ex-gratia payment to the families of polling personnel who die during election duty. Under the AapkiBeti scheme, girls living under the Below Poverty Line (BPL) and whose mother orfather or both have died to get annual financial assistance in the state.
The amount has been increased to Rs 2,100 from Rs 1,100 for the girls studying in class 1 to 8 and for the girls in class 9 to 12, the financial aid has been increased to Rs 2,500 from Rs 1,500.
Ashok Gehlot is the CM of Rajasthan.
Jaipur is the capital of Rajasthan.
Kalyan Singh is the current Governor of Rajasthan
Arjun Munda Launched 'E-Governance Initiatives For ST Welfare Schemes'
Arjun Munda, Union Minister for Tribal Affairslaunched the "e-governance initiatives for ST Welfare schemes" at a function organized by Ministry of Tribal Affairs.
As per the "SabkaSaath, SabkaVikas and SabkaVishwas", these e-governance initiatives will serve their purpose of the betterment of tribal communities across the nation.
Govt cuts interest rate on small savings schemes
The GoIhas reduced interest rates for small savings schemes by 10 basis points for the July-September quarter of the 2019-20 financial year.
Some schemes that will fetch lower interest rates are KisanVikas Patra(7.6%), Public Provident Fund (7.9%), Sukanya Samriddhi Account (8.4%).
Make Notes