Pakistan owed debt from China
The debt owed by Pakistan to China has been pegged at $6.56 billion for the July-April period, equals to 3/4th of the total $8.6 billion worth loans that Islamabad received in the past 10 months.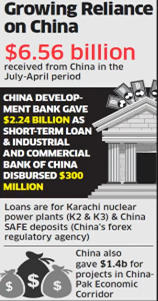 These loans are for the Karachi nuclearpower plants, Known as K2 and K3, and China SAFE deposits. (SAFE is the State Administration of Foreign Exchange, China's foreign exchange regulatory agency).
The full disclosure of Chinese loans was a sticky point in negotiations between the Pakistan government and the IMF regarding a $6-billion bailout package.
IMF is against Pakistan using its funds to repay Chinese loans.
Every government in Pakistan has been heavily relying on foreign loans to stay afloat.
Recession Risk
Wall Street: Trade War between USA-China can lead us to
Morgan Stanley: A global recession could start within nine months if President Donald Trump imposes 25% tariffs on an additional $300 billion of Chinese exports and Beijing retaliates.
JPMorgan Chase& Co: the probability of a U.S. recession in the second half of this year has risen to 40% from 25% a month ago.
A recession is a macroeconomic term that refers to a significant decline in general economic activity in a region, country, or the entire world that goes on for more than a few months.
US-China trade war
Foreign minister Jaishankaremphasised that India will stay non-partisan in the Sino-US trade war and will be solely guide by national interests.
In every clash, there is an opportunity and risk also.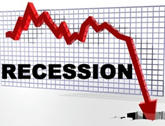 The International monetary Fund estimates the trade war between US and China could bring down global Gross Domestic Product (GDP) in 2020 by about $455 billion or 0.5%.
China has imposed extra duties on 774 American items.
Of the 531 tariff lines on which the US has imposed additional duties on China.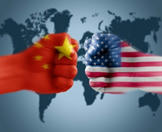 The study said the trade war may bring about a shift in the global trading patterns due to spillover effects and displacement of the bilaterally traded communities to other countries.
UAE launches UN-developed anti money laundering platform 'goAML'
The UAE has become the first country in the Gulf to launch 'goAML', a new anti money laundering reporting platform developed by the United Nations Office on Drugs and Crime to curb organised crimes.
All financial entities and Designated Non Financial Businesses or Professions have to register on 'goAML'.
President of UAE:Khalifa bin Zayed Al Nahyan; Capital: Abu Dhabi.
Currency of UAE: United Arab Emirates Dirham
Make Notes