Donald Trump on China Trade
Trump's push to force Beijing to change what are widely viewed as China's market-distorting trade and subsidy practices. Trump's trade war will force China to reform policies that businesses and foreign governments regard as unfair. Trump has drawn broad support from those who oppose him on almost everything else.
Trump's trade team say they are in the final stages of negotiating what would be the biggest economic policy agreement with China in decades.
China's President Xi Jinping is seen as reluctant to make economic reforms under pressure from the United States. Xi may find it easier to live with the tariffs Trump has imposed on trade than to change China's model for economic development.
Beijing has offered to make big-ticket purchases from the United States to help reduce a record trade gap. Trump's team has said those purchases would be worth more than a trillion dollar over about six years. Chinese purchases might be tempting for Trump's administration.
China infuses $2.2 b in Pakistan
China on Monday pumped-in $2.2 billion to cash-strapped Pakistan to shore up its close ally's foreign currency reserves and help avert a possible default on external debt payments. Pakistan has so far received a total of $9.1 billion in financial assistance packages from friendly countries during the current fiscal year.
China USA Trade War Talks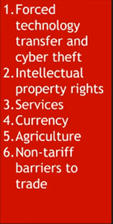 The US and China have make progress in all areas under discussion in trade talks. China had put proposals on the table that went further than in the past, creating hope for a deal that the US insists must include structural changes in the Chinese economy.
Washington wants Beijing to end practices it says involve the theft of U.S. intellectual property and the forced transfer of American technology to Chinese companies. The world's two largest economies have slapped tit-for-tat tariffs on hundreds of billions of dollars of goods.
China wants the United States to lift its tariffs as part of a deal.
Make Notes