India- Russia defence deal
India to lease Nuclear Attack Submarine from Russia of $ 3 billion named 'Akula class' fitted with indigenous communications system and sensors and will be the 3rd Russian nuclear submarine to be operated by India. The vessel will be ready by 2025.In India this submarine is named as 'Chakra III'. Last year India signed the $5.5-billion contract with Russia for S-400 and this will be the biggest deal after that.
The Chakra III will replace Chakra II (2012) and will be in service for atleast 10 years. In 2022 the lease of the Chakra II is to expire and could be extended to 2027 till the new vessel (Chakra III) get built and tested.
Nuclear Attack Submarine or SSN is powered by a nuclear reactor but armed with conventional weapons and can remain underwater for months.
Changes in IBC for cross-border cases
Government of India (President) issue ordinance amending the insolvency and Bankruptcy Code (IBC) and adding a chapter on cross-border insolvency based on the UNCITRAL model law.
The model law deals with 4 major principles of cross-border insolvency-
Direct approach to foreign insolvency professionals and foreign creditors to participate in domestic insolvency proceedings against a defaulting debtor. Like if you are a foreign company or a party then according to UNCITRAL model law you have the right to commence or participate in any case against insolvency.
Recognition of foreign proceedings and provision of remedies.
Cooperation between domestic and foreign courts and domestic and foreign insolvency practitioners as a bridge.
Coordination between two or more concurrent insolvency proceedings in different countries.
Cross-border insolvency law gives the power to foreign creditors to get money lent to Indian corporate entities and also Indian companies can claim their dues. Cross-border insolvency provisions are in sections 234 and 235of the IBC but not enforced yet but can be enforced if India enters bilateral treaties with foreign countries.
Finalising these treaties takes long and also creates inexactness for Indian courts and the National Company Law Tribunal (NCLT).
Government wants to create a separate provision for insolvency that would be globally accepted.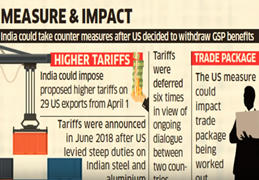 India ready for Tit for Tat with USA
From April 1, India is likely to impose higher duties on 29 goods ( walnuts, chickpeas, lentils, boric acid and diagnostic reagents, etc..) imported from the US imposing an additional burden of $290 million on them, which withdrew benefits under the Generalised System of Preferences(GSP), on the other hand US had announced heavy tariffs on imported steel and aluminium items on March 9 last year, but not imposed yet.Tariffs were deferred six times between two countries.
India to hike Saudi flying rights by 40%
India decided to give Saudi Arabia 40% flying hike from April 1, after that Saudi Arabia the only country within a 5000-km flying distance becomes the biggest and only beneficiary of India. Under the new aviation policy, no country within 5,000 km flying distance from India will be allowed any extra seats unless Indian carriers exhaust 80% of the flying rights quota. India rejected request of countries like Dubai, Qatar, China, Singapore and Malaysia.
Saudi Arabia has allowed Indian carrier to add as many flights as they want to Dammam. Ministry of external affairs (MEA) said the aviation ministry that Saudi Arabia allows Air India to fly to Israel using its airspace, and that the national carrier is the only airline that is allowed this facility.
Flights between two countries by air services agreements are called bilateral flying rights.
India wants Iran oil
India's current level purchase of oil from Iran is 300,000 barrels per day. India has reduced its purchase of Iranian oil but has been in talks on extending a sanctions waiver, known as significant reduction exception. United States reimposed sanctions against Iran last November, although the United States granted Iran's biggest oil customers waivers that have allowed them to continue limited imports, Washington is putting pressure on governments to reduce purchases of Iranian oil to zero. Delhi is negotiating with Washington for extending a waiver of US sanctions past early May. The first round of waivers expires around May 4.
India US nuclear energy partnership
9th round of India-U.S. Strategic Security Dialogue held in
Washington on March 13. He decided to build 6 nuclear power plants in India to strengthen bilateral security and civil nuclear cooperation. Both the countries signed a historic agreement to cooperate in civil nuclear energy in October 2008.
A major aspect of the deal was the Nuclear Suppliers Group (NSG) that gave a special waiver to India enabling it to sign cooperation agreements with a dozen countries. India signed civil nuclear cooperation agreements with the U.S., France, Russia, Canada, Argentina, Australia, Sri Lanka, the U.K., Japan, Vietnam, Bangladesh, Kazakhstan and South Korea. The U.S. reaffirmed its strong support to India's early membership in the 48-member NSG.
India USA to exchange CBC reports
India and the US can now exchange country-by-country (CBC) reports filed by the ultimate parent corporations based in either of the countries, this will reduce the compliance burden of their subsidiaries.
The Income Tax Act requires Indian subsidiaries of multinational companies to provide details of key financial statements from other jurisdications where they operate, this provide the IT Department with better operational view with regards to revenue and Income Tax paid. Indian entities would not be required to do local filing of CBC reports in India.
FTA for India Africa
"India and Africa should examine if they can enter into a free trade agreement or preferential trade agreement" Suresh Prabhu. In the current financial year ending March 31, Indian's exports of services and merchandise together would touch a record $540 billion. The Indian-Africa trade stands at $ 62 billion. He said FDI inflows in the last fiscal, and the country's outbound investment flows are also increasing.
India exports pharmaceuticals, engineering and electronic products to Africa and imports natural sources ad diamonds.
India keen to host WTO mini ministerial
India has proposed to host an informal gathering of ministers of the members of World Trade Organisation (WTO) in May to discuss the interests of least developed countries and developing countries in global trade rules aimed the US accusing emerging economics of benefitting from exemptions meant for poor nations. WTO allows special provisions for developing countries called Special and Differential Treatment (S&DT), a similar meeting hosted by India last year teamed up with China, South Africa and Venezuela to counter the US allegations.
Exemptions under S&DT-

Longer time periods to implement agreements and commitments
Measures to increase trading opportunities
Provisions to safeguard their trade interests
Support to build capacity to handle disputes
Implement technical standards

The mini ministerial meet is being planned even as New Delhi is in the process of finalising a proposal to reform the multilateral trade watchdog that is rendered unproductive with the US blocking the appointment of judges for more than two years.
Temporary entry of professionals
US, the EU, Australia, Canada and New Zealand expressed apprehension at India's proposal for simpler and more transparent qualification and licensing norms for temporary entry of professionals in other countries. The proposal, that talks of giving consideration to relevant professional experience of applicants as a complement to educational qualifications, has found support from developing countries and LDC members, including the African Group. Mode 4 or movement of natural persons is one of the four ways through which services can be supplied internationally. Developed countries said they were not convinced that India's approach offered a way forward.
In its revised proposal, India has recommended WTO members to accept applications in electronic format with the norm mandating physical presence in the territory of a member for the submission of an application for a license and qualification and has included clauses pertaining to requests for extensions of stay.
India USA Generalized System of Preferences
India will ask the US to delay by 2 months the implementation of the latter's recent decision to withdraw duty benefits on annual Indian exports of $5.6 billion from May under the so-called Generalized System of Preferences (GSP). New Delhi could seek more time to firm up a final offer. Policymaker are busy campaigning for the general election. The US indicated that it could review its decision on the GSP benefit withdrawal if India commits more to address American concerns. India had proposed to replace its extant price cap regime for coronary stents with a trade margin policy to ease concerns of American manufacturers. US demand to scrap/cut tariff on ICT products.
New Delhi had conveyed to Washington that any such across-the -board cut would help only third parties (like China and Korea) and was willing to lower duties on those products where it would benefit the US and also offered to simplify certain certification procedures for dairy imports.
US Lawmakers: President Donald Trump should delay his decision to terminate the preferential trade status granted to India. Trump informed the US Congress about his intent to terminate the designation of India as a beneficiary developing country under GSP. Nearly 2,000 products including auto components and textile materials can enter the US duty-free if the beneficiary developing countries meet the eligibility criteria established by the congress.
Country-by -Country (CbC)
India and the US signed an Inter-Governmental Agreement for exchange of Country-by-Country (CbC) reports along with the Bilateral Competent Authority Arrangement, will enable both the countries to automatically exchange CbC reports filed by the ultimate parent entities of multinational enterprises (MNEs) in the respective jurisdications, pertaining to the years commencing on or after January 1, 2016, a Finance Ministry statement said.
India has already signed the Multilateral Competent Authority Agreement (MCAA) for exchange of CbC reports, which has enabled exchange with 62 jurisdications.
 Nine banks win case in US
A US judge has dismissed a lawsuit seeking to hold nine large European banks liable for allegedly providing banking services to Iran that enabled militants to conduct 55 attacks against U.S. armed forces in neighbouring Iraq. 9 banks were sued by military personnel who survived the attacks and relatives of those killed. The U.S. Department of State has designated Iran a state sponsor of terrorism since 1984.
Make Notes