e-Commerce policy
This policy deals with topic like data dominance, data sovereignty and abuse of market power by big technology companies to protect its data to make it available for Indian start-ups while the opposing camp sees the policy as protectionist that will stifle innovation, foreign capital flow and hurt consumer choice. Last date for response is March 9.
This policy is not only about ecommerce, there is social media, cloud and It's like an internet blockade. It proposes that all ecommerce websites and apps selling to Indian consumer for downloading have a registered business entity here. It protects from sharing of sensitive data of Indian users with third party entities, even with consent.
Data monopoly is a serious problem where a single company monopolises data and market intelligence. Facebook and Google get Indian data for little and make lots of money. Many technology lawyers and think tanks feels that instead of demonising US companies, the government should encourage the Indian start-up ecosystem to improve through tax incentives and friendly Indian equity investment rules.
Online sales back on track
Online business marketplaces become normal after New Delhi's changes the overseas ownership rules disrupted sales early February. Foreign direct investment gives seller the opportunity to directly deal with the brands.
Smartphones and electronics are the two largest categories online with 55-60% of the total business.
US China trade deal
The US and China are close to a trade deal that could lift most US tariffs as long as Beijing follows through on pledges ranging from better protecting intellectual property rights to buying a significant amount of American products.
China "Removing levies on $200 billion of Chinese goods quickly was necessary to finalize any deal", US answered "only lift the duties fully when Beijing implemented all parts of the agreement".
According to "The Wall Street Journal" Meeting could happen between President Donald Trump and Xi Jinping around 27march
India's flourishing Services Sector
Nikkei India Services Business Activity Index rose from 52.2 in January to 52.5 in February. A print above 50 means expansion and below denotes contraction. The services PMI was in the expansion territory for the ninth straight month and was domestically driven, new business received by services companies rose in February, good news for our economy.
According to Pollyanna de lima, principal economist at IHS Markit "Faster increases in new York and business activity supporting one of the best upturns in jobs for eight years" and also the manufacturing and services industry rose from 53.6 in January to 53.8, indicating speeding up activity in the country.
Trade unions demand national minimum wage, pension
Other than the RSS-affiliated Bharatiya Mazdoor Sangh,10 central trade unions demands the next government should aim to set a national minimum wages, same pay for both man and woman, an end to contract labour and a minimum indexed pension of Rs. 6,000 per month. The unions said those employed in different government schemes, including anganwadi workers and helpers accredited social health activists (ASHA) and must get minimum wages and social security benefits including pension.
URLs blocked by government in 2018
Internet activists are concerned about websites being blocked by internet service providers (ISPs) and the government without any reason. Last year, the Ministry of Electronics and Information Technology (MeitY) blocked 2,799 URLs for allegedly hosting malicious content, marking a sharp increase from 2017, when 1,385 URLs were blocked. In 2016, 633 URLs were blocked.
The government has withheld information on the list of blocked websites under the right to information (RTI) Act, said internet activists. Many blockades, when brought to the notice of courts, were revoked, but the URLs still remain inaccessible.
A MeitY official said, no website is blocked arbitrarily. "No government machinery can order without valid reason and without following valid procedure. The only procedure available to us is Section 69A empowers the Centre to block websites in the interest of national security and Section 79 empowers the government to issue a notice to an intermediary to remove any content that it finds illegal.
Shell-shocked
The Supreme Court has dealt a blow to companies with shell firms to launder money and escape tax. Supreme Court said if the taxman can back up its claim with sufficient investigation and the company receiving funds as a share capital fails to prove the genuineness of the deal, the company will have to pay tax on the amount.
IT Parliamentary panel asks Facebook to fight misinformation
Facebook executives, including its global policy chief Joel Kaplan and India head Ajit Mohan, met with the parliamentary committee on information technology (IT) and asked Facebook to do more to curb fake news on its platform ahead of the Lok Sabha Elections 2019 and to work more closely with India's election commission to ensure free and fair elections
A source on the panel said that while Facebook has acknowledge that it doesn't "always get it right" when it comes to moderating content, the panel got the sense that the company was "unwilling to be properly scrutinised and transparent".
India needs more exports to boost wages: Report
According to a report from the World Bank and the International Labour Organization, India needs to ramp up exports if workers are to enjoy higher wages. The link between exports and economic growth, the authors show how the trade can help draw people out of the informal, or unregulated, economy and boost pay, thereby reducing poverty.
The value of India's exports rises by $100 per worker would increase average annual wages by Rs 572 ($8) per person. Nearly one crore Indians enter the workforce every year in a country where almost 60% of the population live below a poverty line of $3.2 a day. India's economy has grown at a robust pace of about 7% in the past few years, become less reliant on trade over the years.
The World Bank estimates that trade as a percentage of gross domestic product dropped to 41% in 2017 from 55.8% in 2012. India's share of world exports is 1.7%, 2.5% of global imports and about 800,000 jobs moved from the informal economy to the formal sector between 1999 and 2011 because of export growth, representing 0.8% of the labour force.
Women in the world of Oil
At more than 11,800 feet from sea level in Phey Village of Ladakh, Padma Angmo and 10 other women work, more than half the staff of strength of 20, at the world's highest LPG bottling plant run by Indian Oil Corporation (IOC), the country's largest fuel retailer, ensures cooking gas access to far-flung areas of Ladakh and Kargil where temperature can fall to minus 30 degrees, besides serving the security forces.
While women account for 28% of the total workforce in India, the share of women in oil and gas is just 8%.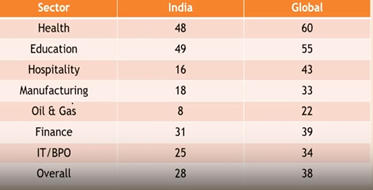 Govt panel gets more powers to decide on privatisation of state-owned firms
The group of ministers (GoM) will now also take decisions on the timing, price and quantum of shares of a company to be put on the block. The Cabinet Committee on Economic Affairs (CCEA) headed by Prime Minister Narendra Modi decided on Thursday to delegate these responsibilities to an Alternative Mechanism (AM). This will facilitate quick decision- making and obviate the need for multiple instances of approval by CCEA for the same CPSE.
There are 30 state-owned companies, including Air India, Dredging corp, Pawn Hans, Central Electronics and Scooters India.
For example, in the case of strategic sale of Pawan Hans, the AM will have Jaitley, Gadkari, along with Civil Aviation Minister Suresh Prabhu and will decide on when to sell the company, at what price, and how many shares will be offered.
"The CCEA has approved delegation of the following delegation of the following Alternative Mechanism in all the cases of strategic disinvestment of Central Public Sector Enterprises (CPSEs) where the CCEA has given 'in principle 'approval for strategic disinvestment," an official statement said.
India's exports
On Thursday Union Commerce and Industry Minister Suresh Prabhu said India's goods export will touch 330 billion dollar in 2018-19, which will be the highest ever. He said country's merchandise exports have seen high growth in the past six years.
WTO Peace Clause
A recent ruling of the World Trade Organization (WTO) against China saying that it provided trade distorting support for its grain producers and questioning the methodology of calculating its subsidies is damaging for India as well. India can also invoke the peace clause that grants immunity to its food procurement programmes in case any country takes its farm subsidies to dispute.
Brazil and Australia have requested WTO dispute with India regarding domestic support measures and alleged export subsidies provided by India to producers of sugarcane and sugar.
The peace clause protects India's food procurement programmes against action from WTO members as subsidy ceilings- 10% of value of food production in India's case- are breached.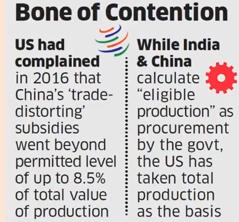 India's nutrition and health insecurity caused by Climate Change
Intergovernmental Panel on Climate Change (October 2018) shared that human activities have led to a 1˚C (0.8˚ C to 1.2˚C) rise in temperatures (global warming) above pre-industrial levels, in which atmospheric concentrations of carbon dioxide was 280 parts per million (ppm) and at present it is 410 ppm and if it continues to increase this will reach 1.5˚ C between 2030 and 2052.
"250,000 deaths per year will take place between 2030 and 2050." World Health Organisation. India already is one of the top rankers in malnutrition globally.
Indian Agriculture and Food Production is highly harmed to climate change largely because the sector continues to be highly sensitive to monsoon variability. 65% of Indian's cropped area is rain-fed.
Increasing population and rapid rate of urbanisation are nutrition threats owing to climate change.
Not only money but food scarcity to food excess, climate change, pollution exacerbation the challenge, one of the risk factors for non-communicable diseases like hypertension, diabetes, cardiovascular problems, absence of adaption strategies, increasing ambient temperature in (sub)tropical areas, tropospheric ozone, water salinity etc.
EAT-Lancet Commission's food advisory recommends consumption of fruits and vegetables rather than meat for preserving own health and nature.
India depends a lot on imports for fulfilling nutritional needs of the population, funding needs to be earmarked for designing, rolling out modern climate change-resistant infrastructure and technology to tackle climate change and nutrition insecurity.
Early warning systems, mitigation and adaption strategies are needed and we have to find more sustainable, resilient and efficient ways of producing, trading, distributing and consuming diversified agricultural food products. Academic and research capacity need to be augmented.
Enforcement Directorate on Vijay Mallya
Enforcement directorate will oppose any claims of first right of access to the assets of fugitive businessman Vijay Mallya by any private entity, only make an exception for state-run lenders. British spirits maker Diageo is seeking first right of access to Mallya's assets. Similar claims made by other borrowers in their responses to the application filed by State Bank of India.
The agency is likely to convey its stand in Mumbai on March 13. "It needs to be appreciated that it is the consortium of public banks (led by State Bank of India) which is the complainant in the case registered against Mallya under the Prevention of Money Laundering Act (PMLA).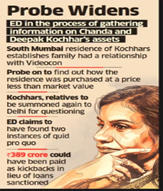 Kochhar's may have diverted 'kickbacks' to tax haven
Enforcement Directorate investing the money laundering caseagainst former ICICI Bank CEO Chanda Kochhar and her husband Deepak, is focusing on the trail of kickbacks allegedly paid by two companies and now from the interrogation we have some workable leads which indicate that the monies received as kickbacks were diverted to a tax haven and is being investigated over allegations of a quid pro quo for loans to companies linked to Videocon and Essar group with which her husband had a business relationship.
Now the probe is concentrating on the diversion and trail of the money flow and how it was used by the couple to buy private assets.
Indian Education
Earlier India were facing the problem of access to school education for our children as we have not delivered quality learning outcomes, but the initiatives like Sarva Shiksha Abhiyan, mid-day meal and improving learning outcomes have solved this problem and now Gross enrolment crossing 100%.
Assessments by the ministry of human resources development and the Union government, such as the National Achievement Survey (NAS), are designed to strengthen this focus.
There is a major shift in the thinking of policymakers in tracking educational inputs. States are undertaking various measures to renovate the quality of school education, to support interventions like improving classroom pedagogy, teacher training and tech- enabled learning, but their impact has been limited when compared to the magnitude of the challenges confronted.
There's a new approach in states like Andhra Pradesh, Haryana, Himachal Pradesh, Jharkhand, Madhya Pradesh, Odisha and Rajasthan. These states have recognized that unless academic changes are not accompanied with administrative reforms that create an enabling environment for these new practices to take root, nothing will change. Haryana has significant progress in its learning outcomes, with grade-level efficiency seeing an increase from 40% in 2014 to approximately 80% currently. Rajasthan's steady rise to the top of the education chart in NAS in 2017. These changes are also reinstating parents faith in the public education system, states like Himachal Pradesh witnessing a reverse migration of students from private to government schools, as learning levels of government and private schools level begin to meet. These states have also developed user friendly dashboards that assist education officials and the sate leadership in decision-making.
Adaption of great competence instead of just syllabus completion, effective delivery of remedial education for weaker students, enable and incentivize teachers to perform better through data-driven insights, training and recognition, a tech platform is also set up. This streamlines communication and saves teacher's valuable time that they might have spent on administrative tasks, such as leave applications, allowance claims, transfers and service book updates after that teachers have more available time in the classrooms, results in improved quality of "in-classroom transactions". Such state- wide campaigns re-energize parents and the community at large, and channel the attention of all stakeholders towards better learning outcomes.
Although this is not enough, it is also important to track the performance of the schooling system on a regular basis and a robust accountability system is required wherein there is a clear articulation of the roles and responsibilities of all relevant stakeholders and the administration is empowered to act where necessary, involves frequent real-time, data-enabled review meetings at the block, district, and state levels.
FPIs not happy with SEBI rules
Large overseas fund managers such as Templeton, Fidelity and BlackRock have opposed the Securities and Exchange Board of India (SEBI) proposal to create a central database containing the personal information of all beneficial powers of offshore funds. Such a database held by an external agency in India would violate the law in their home countries. SEBI has issued a circular on April 10 last year asking foreign portfolio investors (FPIs) to identify the BO of a fund based on not just ownership but control as well. Under this, FPIs will have to submit KYC documents of beneficial owners to custodian banks, which in turn will share them with registrars.

Finance Ministry eyes are set
The Finance Ministry is working out a mechanism under which Central Public Sector Enterprises (CPSEs) will have to part with a portion of the proceeds of non-core asset sales as dividend to the exchequer. Proceeds from the non-core asset sales of state-owned companies which are candidates for strategic disinvestment and fund raised through sale of immovable enemy property will be treated as 'disinvestment proceeds'.
Niti Aayog has been asked to draw up a list of non-core assets of CPSEs, whether profit making or loss incurring, for possible monetisation. This mechanism would provide incentive to the company to go ahead with asset sale with rewarding the government as promoter of these CPSEs. The government has budgeted Rs 1.36 lakh crore as 'dividends and profits' in the next fiscal, up from Rs 1.19 lakh crore in 2018-19, amount includes the money received as dividend from CPSEs and surplus transfers from the Reserve Bank.
Finance Ministry is planning to set up a special cell in the Department of Investment and Public Asset Management (DIPAM) to coordinate with the concerned company and the administrative ministry as well as appoint transaction advisors. For the next fiscal, the government has set a disinvestment target of Rs 90,000 crore, up from Rs 80,000 crore in the ongoing financial year
Pradhan seeks Saudi help to cool fuel rates
With oil prices on the boil, Oil Minister Dharmendra Pradhan has asked world's largest oil exporter Saudi Arabia to play an active role in keeping rates at a reasonable level, and also pointed to the need for uninterrupted supplies of crude oil and LPG to India, as international rates have risen on hopes of the Unites States and China ending a trade war that has slowed down the global economic growth and Organisation of the Petroleum Exporting Countries (OPEC) ally Russia saying it would ramp up its crude supply cuts. This visit reflects the intensifying engagement between the two countries in hydrocarbon sector.
Export index for states
Niti Aayog and Commerce Ministry are going to make an exports index with the Aim to promote a healthy competition among states, half dozen of parameters with 30-40 parameters under the 6 main sub-heads based on international trade parameters but tweaked to Indian scenario.
Trade has been a top priority for the government. If India intends to increase its exports and share of globe trade, we will have to improve the export readiness of states. Export policies of various states are being studied to identify the best practices. Aayog will seek inputs from trade bodies like Export- Import Bank of India (EXIM BANK), Indian Institute of Foreign Trade, Director General of Foreign Trade etc. India's exports stood at $303 billion in 2017-18 expected to grow 7.3% year on year to $325 billion in 2018-19.
Boeing 737 MAX 8
United States will mandate that Boeing implement design changes by April. After the recent crashes in Ethiopia and in Indonesia, the plane was airworthy and did not need to be grounded.
Boeing confirmed the Federal Aviation Administration's announcement late on March 11 that it will deploy a software upgrade across the 737 MAX 8 fleet in the "coming weeks" as pressure mounted.
Start-ups are hiring fewer Women
LocalCircles a major social media platform conducted a survey for
Maternity benefits, in which 30,000 small businesses were participated: 46% of start-ups and SMEs, said that mostly males are hired in the past 18 months and about 42% reveal they won't hire female employees at all.
On 7th march LocalCircles wrote a letter to labour minister Santosh Kumar Gangwar and commerce and industry minister Suresh Prabhu and demand to exempt those entities that employ less than 20 employees or have an annual turnover of less than Rs 10 crore, these small start-ups and SMEs are willing to offer 12- week paid leaves only as per the earlier rule in which there are 26 weeks of maternity leave and in which government proposed to share cost of 7 weeks. These are applicable to those only who are getting up to Rs 15,000 a month.
"There would be a net job loss of 11-18 lakh women in 2018-19 due to the new rules" TeamLease.
Shell companies
"The companies that are incorporated before December 2017 have to file a new form to disclose their particulars, including a fully functional registered office (Rule 25A) this will help to weed out shell companies" Ministry of Corporate Affairs.
MCA can also conduct random checks to ascertain whether the office exists and is operational, such steps strengthen the regulatory architecture and cleanses the system of unproductive shell companies.
Firms are required to file in e-form ACTIVE on or before April 25, 2019. ACTIVE stands for "Active Company Tagging Identities and Verification". The concept of ACTIVE to tag the company's identity and its registered office is one feature under the new rule.
EXEMPTED COMPANIES-
Companies, which have been struck off or are under the process of being stricken off or are under liquidation or dissolved.
Any company that has not filed its financial statements or annual returns with the Registrar of Companies.
National Voluntary Guidelines by MCA
Ministry of Corporate Affairs revised the National Voluntary Guidelines on Social, Environmental and Economic Responsibilities of Business, 2100 (NVGs) and formulated the National Guidelines on Responsible Business Conduct (NGRBC).
MCA urged NGRBC to follow the principles in letter and spirit. The principles envisage businesses to conduct and govern themselves in a manner that is ethical, transparent and accountable and to provide goods and services in a sustainable and safe manner also respect and promote the well-being of all employees and respect interests of and be responsive to all their stakeholders.
MCA has constituted a committee on business responsibility reporting (BRR) to develop BRR formats for listed and unlisted companies also in the process of developing a National Action Plan on Business and Human Rights by 2020.
Norway wealth fund's watchdog on India
The ethics watchdog for Norway's $1-trillion wealth fund, the world's largest sovereign wealth fund will focus this year on shipbreaking on India's beach. 80% shipbreaking takes place in Bangladesh, Pakistan and India. Shipbreaking endangers workers and pollutes the sea and sand also looked out pollution caused by pharmaceutical com.
Council of ethics checks that companies the fund invests in meet these ethical standards. The fund owns share in 9,158 companies,1.4 percent of the world's listed equity.
For the 1st time pollution, particularly from antibiotic production, caused by pharmaceutical companies will be under its scanner and will also focus that could endanger UNESCO World Heritages Sites.
INTERVIEW of Nitin Gadkari
He said–
Pace of highway construction almost trebled to 35 km/day in the last five years, 403 projects worth Rs 3.85 lakh crore were struck and 45 projects were terminated that were found to be non-viable. There is a transparency and honesty in project selection, financing and execution.
In 5 year he invest Rs 11 lakh for highways, Rs 5 lakh crore for ports and Rs 1 lakh for water resources. HAM is a PPP (Public Private Partnership) model in which the government gives the government gives 40% grant-in and developers bring in the remaining 60% almost evenly through equity and debt.
He said, he wanted to make waterways on the Yamuna.
Shakti B (ii)
Coal India will hold a third round of auctions for giving out long term fuel supply contracts under Shakti B(ii), participants of the first round would be eligible to bid. Shakti B(ii) is for power producers who have power purchase agreements with discoms but do not have coal supply contracts with Coal India. Ten companies with a total capacity of 8,840 MW had taken part in the first round of auction.
Centre tells EC on PM KISAN
Centre writes to Election Commission to remove bar on use of data on "small and marginal farmers" received from the state governments after Parliament elections were announced on March 10. Data is pertaining to PM KISAN if not then, not more than 4.76 crore farmers can get the first tranche of Rs 2,000. So far Rs 5,500 crore to over 2.75 crore beneficiary bank accounts are transferred.
According to the EC's manual of model code of conduct, the works on projects could continued by the government agencies without reference to it if "specific beneficiaries have been identified by name before coming of Model Code into force".

India may stop gold imports
India may stop import of refined gold in three to five years. India's annual gold consumption is about 800-900 tonnes of which 750 tonnes is imported. Experts said if gold imported for exporting was not considered, 50 percent of domestic demand was met by gold refined in India.
In gold bullion summit most participant said India could produce 100-150 tonnes of gold and gold- monetisation scheme is also expected to gain over the next three to five years. Only London bullion market-certified gold was accepted in the international market and India had only one such refinery.
G2G Trade for food products
India is worried about slowdown in exports and is looking to use its good relations with other countries and push government to government trading arrangements for food products like Non-Basmati rice to the Philippines and Indonesia, Sugar to Egypt. $900b looks bit unachievable due to muted growth of traditional exports.
Rupee payment for Venezuelan oil
The US has imposed a series of sanctions on Venezuela to squeeze its oil revenue and force the nation's President Nicolas Maduro step down. Given the massive American influence on the international financial system the only viable alternative for refiners in India is to pay in local currency.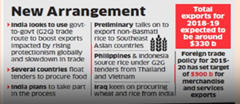 Two-wheeler production cut
Two-wheeler companies decide to cut production by around 15% from the current month till day due to slow growth sales have been sluggish since September.
CCI says DP world trying to halt possible adverse probe findings
Indian's antitrust regulator said in a court filling that a challenge by Dubai's DP World of a probe into its alleged anti-competitive practices at a Mumbai port. The Competition Commission of India (CCI) told a Mumbai court that DP World's local unit had "prematurely" rushed to court to stall or delay the probe.
The CCI last year ordered an investigation into suspected antitrust violations by DP World and Denmark's A.P. Moller-Maersk followed by a complaint by Singapore's PSA international Pte Ltd.
JNPT is critical to India's international trade, handling 66 million tonnes of cargo in the fiscal year through March 2018. The port typically handles more than half of India's annual container traffic. The CCI has since last year launched several antitrust investigations involving foreign companies.
Disclosure to disqualification
On September 2018 Supreme Court rejected a bunch of petitions that asked for disqualification of criminal candidates in elections, the decision came almost after twenty years after the first successful petition filed by the Association for Democratic Reforms (ADR) in the Delhi High Court. Prime Minister's maiden speech in the Rajya Sabha mentioned this issue of cleansing politics and fast-track courts.
"Apex court cannot add new disqualification since this is in the legislative domain". Attorney general.
The number of crorepatis in Parliament increased from 156 to 315 to 449 from 2004 till 2014 and the average wealth of the present outgoing Lok Sabha and Rajya Sabha is 14 crore and 55 crore.
Power tariff may see hike
Tariffs of coal-based electricity may be raised by as much as Rs 0.45/unit to make thermal power stations to make thermal power stations more flexible to accommodate renewable energy and it will depend on the quantum of green energy being generated by solar and wind plants. The tariff rise is about 13% of the average all-India price at which states procured non-renewable power in FY18.
'Flexible operation of thermal power plant for integration of renewable generation' by Central Electricity Authority. This report says that revision of tariff is essential to make profitable flexible operation of thermal units. The country expects to have an installed renewable capacity of 175 GW by FY22 when daily net load swings are expected to be up to 80,000 MW.
Job skills at Schools
India is young nation with an average age is estimated to be 29 years.

Europe: 46 years
Japan: 47 years
US: 40 years

As per Ministry of Skill Development and Entrepreneurship, 54% of the population below 25 years of age.
Over the next 20 years, labour force in the industrialised world will decline by 4% and India labour force will increase by 32%. India needs to equip its workforce with employable skills, particularly transversal skills and knowledge. There are millions of workers willing to fill positions, they lack the skills to do so due to the old-fashioned education system that is focused on 'book learning'.
'Transversal skills' are most important said by UNESCO International Bureau of Education. Skills that are not related to a particular job, task, academic discipline or area of knowledge, but as skills that can be used in a variety of situations and work settings. Critical and innovative thinking, Interpersonal skills includes presentation and communications skills, organisational skills, teamwork. Intrapersonal skills includes self-discipline, perseverance, motivation, adaptability.
In primary school, children are exposed to diversity in terms of multiple cultures from which students come. By interacting with teachers/classmates, they develop communication and interpersonal skills and learn about ethics and tolerance. Soft skills need to be taught in a more structured manner.
Secondary education should focus on building advanced transversal skills. The MSDE was set up in November 2014 to give a fresh impetus to Skill India. Under it, skilling is being integrated into formal education by introducing vocational training linked to the local economy from class 9 onwards, in an at least 25% of the schools.
Unequal access to tech
As per GSMA's 2019 Mobile Gender Gap Report 80% of women in middle- and low- income countries are now mobile owners. Despite the growth in connectivity, the gender gap in mobile ownership is not closing and varies by region and country but is widest in south Asia where women are 28% less likely than men to own a mobile device and 59% less likely to use the mobile internet. Women highlighted affordability, literacy and digital skills a perceived lack of relevance and safety and security concerns as the top barriers needing to be addressed in order to further decrease the mobile gender gap.
Cruise tourism
Cruise tourism is an integral part of the tourism industry of major coastal countries globally with a coastline of more than 4,600 miles along with great heritage and culture, a diverse terrain and a variety of flora and fauna. India has a great potential for the cruise-tourism sector still less explored and mostly untapped. Leading cruise liners are trying to target India as a prospective market The Indian government has been encouraging cruise liners to increase their operations in India also appointed global consultants to setup a roadmap for the development of cruise tourism in India.
Steps taken by Ministry of Shipping
development of cruise terminals
relaxation of port charges
relaxation of ship licensing requirements
Necessary tax reforms must be announced to ensure a level playing field for cruise operators from India compared to foreign operators.
Cruise company enjoy a tax holiday or their income is subject to a favourable tax regime these tax benefits offered, in turn, have played an important role in the growth of cruise sector in those countries. In India, foreign-based cruise liners, plying in India, are either not subject to tax in India. They got benefit of Article 8 of the Double Taxation Avoidance Agreement or are subject to presumptive taxation under section 44B of the Income-Tax Act, 1961 with an effective tax rate around 3,3% on India-sourced income. Indian companies operating cruise vessels in India are not eligible for favourable tax treatment under Section 44B of the Act. If a favourable tax regime is not provided to Indian cruise operators, they will be liable to pay taxes at the normal corporate tax rate of 30% which would make them unviable.
Another important aspect under the Indian tax regime is the applicability of Goods and Service Tax (GST) law to the cruise liners. Currently, leading global cruise liners are seeking exemptions from GST stating that cruise companies will face difficulty to operate in a country where they have to pay GST on the ticket price and on-board supplies and services which form a major part of the total income of the cruise company.
CBSE curriculum
The CBSE is set to introduce Artificial Intelligence (AI), Early Childhood Care Education (ECCE), and yoga as skill subjects in the school curriculum for the coming academic session. While AI is to be introduced as an optional sixth subject for class IX, ECCE and yoga are to be introduced as elective subjects at senior secondary level.
Hard copies of telephone bills
Telecom operators will have to continue providing hard copies of telephone bills to their subscribers without any cost, sector regulator TRAI said on Monday. The TRAI said telecom operators could send electronic copies of the bills to consumers only after their explicit consent also paper industry in India is forest-based but engages around 5 lakh farmers from whom more than 90% of the industry's wood requirement is sourced.
Export licence for restricted items
Commerce Ministry has introduced an online system for exporters to obtain export license for restricted category goods to promote paperless work and EoDB. Applications by exporters will be filed online on E-com module for export authorisations. The consultation process with administrative departments will also be online, from April 1, 2019 it is mandatory to apply online, the Directorate General of Foreign Trade (DGFT).
Reinvent Niti Aayog: Y V Reddy
Former RBI Governor Y V Reddy said, The Niti Aayog suffers from a "wide mandate" and "diffused focus" and there is a need to reinvent the organisation in the context of fiscal federalism and to upgrade the Niti Aayog and empower it to perform functions of Centre and state coordination.
A book titled 'Indian Fiscal Federalism' authored by the former governor and co-authored by G R Reddy.
India can sell its nuclear expertise
India can and must become an active seller, Civil nuclear commerce for India should not mean just buy.
The US is to build six nuclear power plants in India, as per a joint statement issued this month in Washington DC.
The fact is that Nuclear Power Corporation of India (NPCIL) has now purposefully streamlined nuclear plant construction pan-India. It is currently erecting as many as nine nuclear power reactors, and the target is to build 21 new nuclear plants with an installed capacity of 15,700 MW by 2031.
NPCIL has innovated plant specifications, design parameters and standardised equipment to adhere to scheduled timelines.
MeitY on Data Breach
The ministry of electronics and IT (MeitY) proposed a stiff penalty of Rs 5 crore on IT platforms, including social media sites like Facebook and Twitter for failing to comply with rules and regulations under the Information Technology Act,2000 and send a note to the Union Cabinet for amending Section 45 to provide for compensation of Rs 1 lakh to the person impacted by the breach.
Conflict in the World we live
Conflict has increased globally during the last decade and it is not just one-off events, but cycle of repeated violence and it affected nearly 2 billion people and resulted in a loss of more than 10% of the global economic activity.
Conflict comes in multiple forms. International ideological movements can merge with local grievances and different forms of violence can get linked to each other. No country can afford to ignore areas where repeated cycles of conflict flourish.
Conflict could be external or internal to the country:
Internal conflicts can be further classified into two different categories:
Against the state
People-to-people conflict (ethnic and religious violence)
Internal conflicts are related to economic dynamics. Global evidence supports a strong inverse relationship between conflict and per capita income level. A different approach to dealing with conflict is to conduct negotiations and sign peace agreements with the insurgents. The government must conduct coordinated negotiations.
Internal conflict has replaced external conflict. Internal conflict against the state has increased.
Make Notes