Manipur CM announces CMAST & CMAT scheme to encourage athletes & artists
Manipur Chief Minister N. Biren Singh has announced the biggest ever scheme for the welfare of sports persons and artists of the State.
The announcement was made during third-anniversary celebrations of the BJP led government in Manipur at Imphal .
Addressing the media persons N. Biren Singh said that 'Chief Minister's Akhannaba Sanaroising gi Tengbang (CMAST)' and Chief Minister Artist Sing gi Tengbang (CMAT)' would provide benefits to thousands of sportspersons and artistes of the State who have brought laurels to the State and Country.
Governor of Manipur: Najma Heptulla.
Keibul Lamjao National Park is a beautiful place, located in the Bishnupur district of the state of Manipur. The only floating park in the world, located in North East India, and an integral part of Loktak Lake.
Minister Amit Shah inaugurated NSG Regional Hub at Kolkata
Union Minister for Home Affairs Amit Shah inaugurated the National Security Guard (NSG) Regional Hub campus at Kolkata, West Bengal.
It aims to provide adequate facilities to the brave NSG jawans. He also various welfare projects for NSG, amounting to over 245 crores, across Kolkata, Manesar, Chennai, and Mumbai.
It will ensure to boost the capabilities of the force and raise the morale of the jawans.
Jagdeep Dhankhar is the governor of West Bengal.
Mamta Banerjee is the CM of West Bengal.
APEDA signs MoU with SFAC for development of agriculture sector
Recently, the Agricultural and Processed Food Products Export Development Authority (APEDA) has signed an Memorandum of Understanding (MoU) with Small Farmers Agribusiness Consortium (SFAC) to bring in better synergy in the agricultural activities.
APEDA has been in dialog with SFAC for linking of Farmer Producer Organizations (FPOs), farmers' cooperatives to the export value chain through quality production as per the requirement of importing countries.
As per MoU, APEDA and SFAC will jointly work to link up the FPOs with the exporters.
They will also work towards capacity development, awareness programs, outreach programs and workshops of various stakeholders.
APEDA will facilitate certification of organic produce/areas by the Farmer Producer Companies (FPCs) assisted or identified by SFAC.
Indian Railways launches its 1st "Restaurant On Wheels"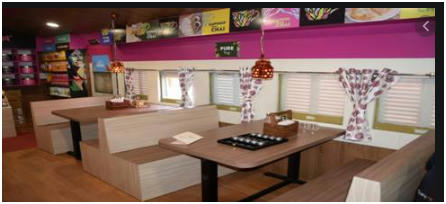 Indian Railways launches its First "Restaurant on Wheels" at Asansol Station for railway passengers and citizens of the city.
Shri Babul Supriyo inaugurates First "Restaurant on Wheels" and various passenger amenities at Asansol Station in Eastern Railway Two over aged coaches have been converted into signature restaurants .
This is likely to generate 50 lakhs of non fare revenue during next 5 years.
Union Minister of Ministry of Railways: Piyush Goyal.
Govt launches "Humsafar" mobile app for doorstep diesel delivery
Labour Minister Santosh Gangwar has launched a mobile application named 'Fuel Humsafar' for delivery of diesel at doorsteps.
The app will be used for the fuel delivery services to housing societies, hospitals,other bulk buyers of diesel, in various NCR cities, including, Hapur, Kundli, Manesar, & Bahadurgarh.
Humsafar has 12 bowser tankers in varying capacity from 4 kilolitres to 6 kilolitres & an experienced team of 35 people, excluding bowser crews.
Minister of Petroleum and Natural Gas: Dharmendra Pradhan
Innovate for Accessible India campaign launched to empower PwD
Microsoft India and NASSCOM Foundation announce Innovate for an Accessible India campaign to empower PwDs.
The nation-wide innovation challenge supported by the Ministry of Social Justice and Empowerment, Department of Science and Technology and Ministry of Electronics and Information Technology will serve as an aggregator of technology-led solutions for empowering persons with disabilities.
Chief Executive Officer of Microsoft: Satya Nadella.
Microsoft Founded: April 4, 1975; Headquarters: Washington, United States.
Chairman of NASSCOM: Keshav Murugesh; President: Debjani Ghosh.
Gairsain to be Uttarakhand Summer Capital, Says CM Trivendra Rawat in Assembly
Uttarakhand will get a permanent summer capital two decades after the hill state was carved out of Uttar Pradesh.
It has been a long-pending demand of locals to have a capital at Gairsain — a nondescript town nestled in Garhwal some 280 km from Dehradun — the provisional state capital.
The Assembly mostly meets in Dehradun, but occasionally sessions — like the current Budget session — are held in Unlike Dehradun, which is far off from many districts, Gairsain has an edge due to its location and proximity with hill districts. Dehradun would continue to operate as the second capital.
Chief Minister of Uttarakhand : Trivendra Singh Rawat.
Governor of Uttarakhand: Baby Rani Maurya.
Government Declares National Chambal sanctuary as eco-sensitive zone
The Cenral Government has declared the National Chambal Sanctuary in Madhya Pradesh as an eco-sensitive zone.
This means that now the construction of commercial establishments such as hotels or resorts will be prohibited within an area of zero to two kilometres from the sanctuary, to help maintain distance between the human settlement and the
The sanctuary based in the Chambal region is home for a lot of critically endangered species like Critically Endangered gharial, the red-crowned roof turtle and the Endangered Ganges river dolphin.
Make Notes