BRAC tops the list of top 500 Global NGOs
Bangladesh Rehabilitation Assistance Committee (BRAC) is an international development organization that has topped the list of top 500 Global Non-Governmental Organisations (NGOs).
The list of the top 500 global NGOs of year 2020 was delivered by Geneva-based organization NGO Adviser. The Bangladesh based international development organization, BRAC has retained its 1st rank in the list for the 5th consecutive year.
Chairman of BRAC Global Board: Ameerah Haq.
Andhra Pradesh ranked 1st in country for overall implementation of Poshan Abhiyan
Government is implementing Poshan Abhiyan, earlier known as National Nutrition Mission, since 18th December, 2017 to address the problem of malnutrition in the country.
The Abhiyan aims to reduce malnutrition in the country in a phased manner, through a life cycle approach, by adopting a synergized and result oriented approach.
The goals of Poshan Abhiyan are to achieve improvement in Nutritional status of children from 0-6 years, adolescent girls, pregnant women and lactating mothers in a time bound manner.
Chief Minister of Andhra Pradesh: Y. S. Jaganmohan Reddy.
Governor of Andhra Pradesh: Biswa Bhushan Harichandan.
Capital of Andhra Pradesh: Amaravati.
Visakhapatnam Port (Opened December 19, 1933) is one of 13 major ports in India and the only major port of Andhra Pradesh. It is India's second-largest port by volume of cargo handled.
Gujarat ranks 1st in domestic solar rooftop installations
Gujarat ranks first in the list for domestic solar rooftop installations with 64% of domestic solar installations.
Nearly 50,915 systems are being fixed on domestic rooftops in the State as on March 2, 2020.
The State government of Gujarat has adopted a solar rooftop scheme "Surya Gujarat" to cover about eight lakh domestic electricity consumers under the scheme by 2022.
Maharashtra ranks second in the list with 5,513 installations as on the same date. About 79,950 systems have been installed throughout the country has a capacity of 322 MW.
Chief Minister of Gujarat: Vijay Rupani; Governor of Gujarat: Acharya Dev Vrat.
Gir Forest National Park and Wildlife Sanctuary, also known as Sasan Gir, is a forest and wildlife sanctuary near Talala Gir in Gujarat, India.
The Sardar Sarovar Dam is a gravity dam on the Narmada river near Navagam, Gujarat.
Gaurav Gupta & Byju Raveendran on WEF's Young Global Leaders list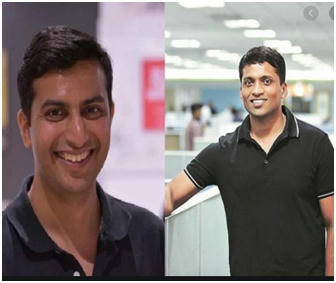 Byju Classes' founder Byju Raveendran and Zomato's co-founder Gaurav Gupta are among the five Indians named by the World Economic Forum (WEF) in its new list of 115 Young Global Leaders.
The other three Indians on the list are Tara Singh Vachani (CEO of Antara Senior Living), Vinati Mutreja (Managing Director and CEO, Vinati Organics Limited) and Swapan Mehra (CEO, Iora Ecological Solutions).
Headquarters of World Economic Forum: Cologny-Geneva, Switzerland.
Founder of World Economic Forum: Klaus Schwab.
President of World Economic Forum: Borge Brende.
World Economic Forum founded: January 1971.
Animal Protection Index: India ranks second
World Animal Protection, an international animal welfare charity has released the Global animal protection index 2020.
It aims to showcase where countries are doing well, and where they fall short on animal welfare policy and legislation.
The index ranks countries from A (being the highest score) to G (being the weakest score) according to their policy and legislation.
World Animal Protection founded: 1981.
World Animal Protection Headquarters: London, United Kingdom.
Chairman of Animal Protection: Paul Baldwin.
India ranked 12th in women member presence on companies' board globally
​​According to a recent study on 'Women On Board 2020' by global recruitment tendering platform MyHiringClub.com and Sarkari-Naukri.info, India ranked 12th worldwide in women member presence on board.
With more and more organisations in the country realising the importance of gender parity, a recent study has revealed that India ranks 12th globally in women member presence on board.
Norway topped the list with 40.72% women on board
Around 54% of employees in Asia and 39% in India are women
India ranked 12th in the world in women member presence on board
Among 628 listed companies from India, 55% companies were having women directors
Make Notes