SEBI finds NSE guilty
The markets regulator on 30th April cracked the whip on National Stock Exchange of India Ltd (NSE), and ordered to deposit nearly 1,000 crore in an investor fund and barring it from accessing capital markets for six months, for lapses in its algorithmic trading systems and co-location services.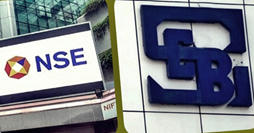 NSE had failed to ensure equal and fair access.
SEBI also punished Ravi Narain and Chitra Ramakrishna, two former CEOs and founding members and asked to deposit 25% of their salary.
SEBI-Securities and Exchange Board of India
Establishment of SEBI– April12, 1992
Headquarter– Mumbai, Maharashtra
Chairperson-Ajay Tyag
NSE Founded in- 1992
MD & CEO- VikramLimaye
Headquarter- Mumbai, Maharashtra
The NSE is the second largest in the world by nos. of trades and equity shares from January to June 2018, according to the World Federation of Exchanges (WFE) report.
Madras HC sets aside its single-judge order on NBFC registration
In a victory to Reserve Bank of India (RBI), a division bench of the Madras High Court has set aside a single judge order that ordered restoration of Certificate of Registration (CoR) of non-banking financial companies (NBFC) cancelled by the central bank for non-compliance of the enhanced net owned fund (NOF) norms.

RBI had notified an enhanced NOF holding by all NBFCs on March 27,2015, which stipulated them to have Rs 1 crore as NOF as of April 1, 2016 andRs 2 crore as of April 1, 2017.RBI had cancelled the CoR of over 1,500 NBFCs for non-compliance.
The bench also directed the NBFCs to approach the appellate authority within 30 days and raise their concerns to get the grievances redressed.
RBI 25th Governor- Shaktikanta Das
Headquarters- Mumbai
Founded- 1april 1935, Kolkata.
A Non Banking Financial Company (NBFC) isa company registered under the Companies Act, 1956 of India, engaged in the business of loans and advances, acquisition of shares, stock, bonds, hire-purchase insurance business  but does not include any institution whose principal business includes agriculture, industrial activity or the sale, purchase or construction of immovable property.
Declare IL&FS as NPAs
National Company Law Appellate Tribunal (NCLAT) headed by Chairman Justice SJ Mukhopadhayaon 2nd May, allowed the banks to declare as non-performing assets the accounts of IL&FS and its group companiesthat defaulted on payments. The appellate tribunal has also clarified that although the banks would declare the IL&FS accounts as NPAs but cannot initiate recovery process and debit money.
NPAs- Non-Performing Assets
IL&FS- Infrastructure leasing and Financial Services
Finance ministry confirms slowdown fears
The GDP growth may have touched 6.5%in the March quarter, against 6.6% in the previous quarter
The slowdown in the economy in FY19 has been caused by declining growth of private consumption, tepid increase in fixed investment and muted exports.
Current account deficit (CAD) situation may have improved in the last quarter of FY19 from 2.5% in the December quarter, as dip in imports has improved the merchandise trade deficit.
The Central Statistics Organisation has pegged FY19 GDP growth at 7%, down from 2% in FY18 and 8.2% in the year before.
Though the easing of the monetary policy (the repo rate has been cut by 25 basis points each in February and April) has the potential to support growth. Credit growth could have been challenged by continuous tightening of bank liquidity, causing the call money market rates to trend up since Q1.
Gross domestic product (GDP) is a monetary measure of the market value of all the final goods and services produced in a period of time, often annually.
Current finance minister- PiyushGoyal
IBC Resolution
Over two dozen companies are named by the Reserve Bank of India in its 2nd list of large non-performing assets (NPAs), but only three companies (Ruchi Soya Industries, EPC, Constructions and ARGL) have come close to being resolved successfully through the corporate insolvency resolution process (CIRP) since August 2017.There successful bidders arePatanjaliAyurvedfor Ruchi Soya, Royale Partners for EPC Constructions and CarVal-Arcilfor ARGL.
The second list involved companies with a total principal outstanding of Rs 1.28 lakh crore,March 2018 report by CLSA.
RBI 25th Governor- Shaktikanta Das
Headquarters- Mumbai, Maharashtra
Founded- 1april 1935, Kolkata.
Recommendation of FPI investment in unlisted companies
The Securities and Exchange Board of India (SEBI) committee is set to recommend that foreign portfolio investors be allowed to buy shares of unlisted companies.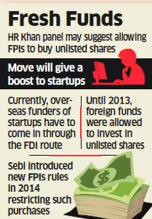 Such a measure would be a boost for start-ups and other unlisted entities as they will get access to a broader pool of capital.
The Securities and Exchange Board of India (SEBI) is the regulator for the securities market in India. It was established in 1988 and given statutory powers on 30 January 1992 through the SEBI Act, 1992.
Headquarter– Mumbai, Maharashtra
RBI imposes penalties on five PPI issuers
Reserve Bank of India (RBI) has imposed penalties on five prepaid payment instrument (PPI) issuers for violating regulatory norms under Section 30 of provisions of Payment and Settlement System Act, 2007.
It includes Vodafone's m-pesa, My Mobile Payments Limited which own Oxigen, Flipkarts'sPhonePe, Y-cash SoftwareSolutions Private Limited which owns YPayCash and GI Technology Private Limited.
RBI 25th Governor- Shaktikanta Das
Headquarters- Mumbai, Maharashtra
Founded- 1april 1935, Kolkata
SBI links its interest rate to Repo rate
State Bank of India (SBI), linked its interest rates on savings bank deposits and short term loans to repo rate of Reserve Bank of India (RBI). The repo rate is interest rate at which RBI lends short term funds to banks. At present the repo rate is 6%.
SBI has linked savings bank deposits to repo rate with balances of more than Rs 1 lakh. The advantage of linking to repo rate is to expect to bring more transparency in fixing interest rates and help in faster transmission of rates.
SBI Chairperson-Rajnish Kumar
Headquarters- Mumbai
Founded in- 1 July 1995
Jalan Panel
Jalan panel was appointed on December 26, 2018, with six members to look into the appropriate capital reserves the RBI should maintain. The committee was supposed to submit its report in 90 days from the first day of its meeting.
The panel has been entrusted with the task of reviewing the best practices followed by central banks worldwide in making assessment and provisions
The Reserve Bank of India, in consultation with the government, constituted acommittee led by the central bank's former Governor BimalJalan to look into its Economic Capital Framework.
State Finance Commissions
There is a Meeting held between RBI Governor Shaktikanta Das and Finance Commission Minister N.K Singh, to setting up 'State Finance Commissions' for state governments and also public sector borrowing requirements and continuity of the Finance Commission were also discussed.
"It was felt that this was required more in view of the fiscal management requirementsof the states.Importance of the states in the economy has increased with the shift in composition of government finances." RBI
"Specific factors drive fiscal slippages: these factors include UDAY in the past and farm loan waivers and income support schemes in 2018-19 RE".
Canara Bank and Canara HSBC OBC launch ' Webassurance'
Canara Bankand its life insurance partner Canara HSBC Oriental Bank of Commerce Life Insurance launched 'Webassurance' to enable its customers to purchase life insurance in a convenient and hassle-free way through bank's website.
Canara HSBC OBC Life is jointly owned by two public sector banks,Canara Bank (51 per cent) and Oriental Bank of Commerce (23 per cent) and HSBC Insurance (Asia Pacific) Holdings (26 per cent), the Asian insurance arm of banking and financial services groups HSBC.
Canara Bank Chairman-Shri T.N. Manoharan
Headquarters- Bangalore
MD & CEO- R A Sankara Narayanan
Retail Inflation
Retail inflation inched up to a six-month high of 92 per cent in April due to a spike in food prices, including vegetables, meat, fish and eggs.

Inflation based on the Consumer Price Index (CPI) was at 86 per cent in the previous month and 4.58 per cent in April 2018. The rate of price rise in April is the highest since October 2018 when the rate was 3.38 per cent.
The Reserve Bank mainly factors in the CPI-based inflation while setting the key policy rates. The Monetary Policy Committee headed by the RBI governor would be meeting early June to decide on its monetary policy.
PSBs set aside Rs 52,739 cr. as provision in Q4FY19
Stung by the collapse of IL&FS and Jet Airways
13 Public Sector Banks have put aside Rs52,739 crore in the March quarter for existing and potential loan losses.
Finance Commissionand Finance Ministry discussions
Finance Commission held discussions with the Finance Ministry,related with-

Fiscal management
Economic management
Rationalisation of expenditure related to centrally sponsored schemes.

15th Finance Commission observed that the GDP numbers suggest continued high growth over the medium term even though there have been fluctuations within the overall global trend.
The Commission also noted that the revenue projections on direct taxes are healthy though on Indirect taxes there have been periodic fluctuations, chaired by N K Singh.
RBI's vision document
The RBI's 'Payment Systems Vision 2021' document would act as a catalyst for promoting digital economy and instill confidence among the general public. Aiming at a'cash-lite' society, the Reserve Bank of India released the vision document for ensuring a safe, secure, convenient, quick and affordable e-payment system as it expects the number of digital transactions to increase more than four times to 8,707 crore in December 2021.
"We are confident with our vision as a payment system provider aligned with the regulators, we will be able to contribute in increasing the digital transactions penetrations especially in the assisted segment in smaller cities and rural India,"- RBI
PNB merger
Punjab National Bank is looking to merge with two or three government owned banks like Oriental Bank of Commerce, Andhra Bank and Allahabad Bank.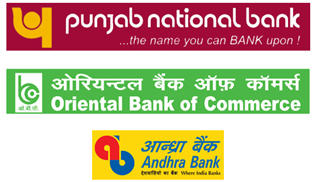 Government is trying to cut the number of state-owned lenders. This could be 1 of the first decisions taken by the new government.
Banks struggle under a huge debt pile: 9 trillion Indian Rupees ($130 billion), or nearly 5% of the nation's gross domestic output.To revive the banking sector the government of India has injected about $36 billion of tax payer money in the last five years and also initiated an asset quality review of banks by the central bank.
PNB founded in- 1894
Headquarter –

New Delhi

Chairman and MD- Sunil Mehta
Oriental Bank of Commerce  founded in- 1943
Headquarter  – Gurugram, India
MD & CEO – Mukesh Kumar Jain
Andhra Bank founded in- 1923
Headquarter- Hyderabad
MD & CEO – J. Packirisamy
An Economic agenda for the next government
"A wish list for any new government will be to have political will in the first year in office to bring in reforms in Land, Labour and Capital"– N.K Singh, 15th Finance Commission.
"Some important structural reforms like the GSTandIBC are done, although some more tweaking is required there. These have to be followed up with reforms in the factors markets"- Krishnamurthy Subramanian, Chief economic advisor.
"Fixing the NBFC crisis and growth slowdown are immediate priorities. Mobilise more revenues and channel them towards productive spending"- SonalVarma,Chief India economist at Nomura.
"First, the government has to address growth slowdown, come out with policies to fix farm distress and more reforms, especially in GST and IBC fast. It needs to seriously look at more divestment revenues"- DK Joshi, Chief economist at Crisil.
"The economy is facing risks of getting into a middle-income trap. Schemes like PM-Kisan are sort of compensatory apology; they may stimulate consumption in a limited manner but won't be enough to reverse structural slowdown"- Rathin Roy, Director, NIPFP.
"The slowdown in private consumption is here to stay for some time and no government can stimulate it overnight. So economic growth will stagnate around 7% for one-two years before recoding a gentle recovery."- MadanSabnavis, Chief economist at CARE Ratings.
"Economic growth has been weakening in the past four-six quarters, which needs to be corrected urgently through appropriate policy reforms"- ArvindVirmani, Former chief economic advisor.
 NPA crisis
With the economy seeing a very sharp slowdown with demand weakening and some uncertainty on the monsoon, exposure to businesses in sectors such as MSME, real estate, agriculture, power, and even to NBFCs could go bad.
The contraction in factory output in March and also the very poor corporate results for Q4FY19. For the MSME sector, interest costs have not fallen meaningfully as banks have not transmitted the entire reduction in the repo rate to customers.
Finance Ministry to launch ETF with banks stocks, financial institutions this fiscal
After the resounding success of CPSE ETF (exchange traded fund) and Bharat-22 ETF, the government is looking at diversifying the ETF basket by including stocks public sector banks and financial institutions.
Finance Ministry will soon appoint an advisor to explore its feasibility.
The balance sheet of PSU banksexpected to strengthen going forward and an ETF would provide risk-averse investors an option to hold sharesof multiple banks through a single financial instrument.
Provide names of big loan defaulters : CIC to RBI
The Central Information Commission (CIC) has directed the Reserve Bank of India to disclose the list of big loan defaulters it has sent to banks for resolution.
In 2017 RBI Deputy Governor Viral Acharya said that the accounts of some loan defaulters have been sent to banks for resolution.
The RBI directed banks to file insolvency applicationsagainst 12 large accounts comprising about 25% of the total NPAs.
Nutan Thakur, a social activist wanted to know from the RBI the list of loan defaulters, The RBI had refused to provide the details.
MCA lens on IL& FS shareholders
The probe into the collapse of Infrastructure Leasing & Financial Services is set to expand to include the role of marquee shareholders such as HDFC, State Bank of India and Orix Corporation.
How these shareholders are their representatives on the IL&FS board failed to flag the irregularities and deteriorating financial condition.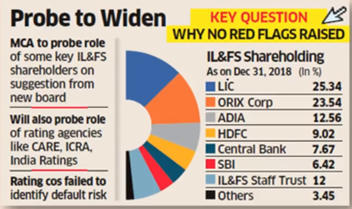 An investigation will also be conducted into the role of CARE, India Ratings and ICRA which had given high ratings to IL&FS before the crisis.
Below 7% Economic growth- ET Poll
Because of a disappointing 4th quarter India's economic growth is likely to have slipped below 7% in
The economy is facing tighter financial conditions, weak global and domestic demand, with private consumption slowing materially.
Make Notes