India-Pakistan trade halves
India's imports from Pakistan crashed 44.6%and its exports plunged 7% in February when New Delhi revoked its most favoured nation (MFN) status of Islamabad in the wake of the Pulwama terror attack on the 14th of the month, perpetrated by Pakistan-based militant outfit Jaishe-Mohammed (JeM)
Analysts said trade with Pakistan might have collapsed even further in March.
India has slapped a 200% duty on purchases from Pakistan after the withdrawal of the MFN status the massive fall in exports suggests Islamabad has quietly raised its non-tariff barriers for Indian products in response to New Delhi's tariff war.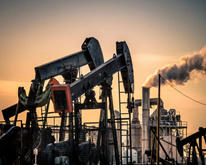 US cannot ensure crude sale to India at concessional rate
The US, said that it cannot ensure the sale of its crude oil to India at concessional rates to make up for the cheaper Iranian oil going out of the market."
India stopped importing crude oil from Iran following the US move to end sanction waivers. Iranian oil was a lucrative buy for Indian refiners as the Persian Gulf provides 60 days of credit for purchase. Iran also providing insurance cover during
US Ambassador to India Kenneth Juster said, "The US working with other countries, including Saudi Arabia, to ensure an adequate supply of oil".
India was the second-biggest buyer of Iranian crude oil after China.
H- 1B fee hike
Trump administration could soon increase the H- 1B visa fee further, pushing IT companies to hire locally in the US.
US Labour Secretary Alexander Acosta told US lawmakers that an increase in H- 1B visa application fee will raise funding for the expansion of an apprentice programme, which trains American youths in technology-related activities.
India- US Trade
INDIA-"If India scrap or trim the duties, only China and Hong Kong will be the biggest beneficiaries of the move, USA will hardly gain."
US made up for only 2% (or $415 million) of India's imports of these seven products worth $5 billion in financial year (FY) 18. India will lose as much as $3.2 billion a year in customs revenue.
India's potential revenue loss will be way above the export incentives of $190 million that the US offered India in FY18 under the so-called generalised system of preferences (GSP).
The US has indicated that it could hold its proposed withdrawal of incentives on annual Indian Exports of $5.6 billion under the so-called generalised system of preference (GSP) until the formation of the new government
A group of 25 influential American lawmakers has urged the US Trade Representative not to terminate the GSP programme with India after the expiry of the 60-day notice on May 3, saying the country's companies seeking to expand their exports to India could be affected.
The Generalized System of Preference (GSP) is the largest and oldest US trade preference programme and is designed to promote economic development by allowing duty-free entry for thousands of products from designated beneficiary countries.
On 31st May, The Trump administration has said it is not going back on its decision to terminate India's designation as a beneficiary developing nation. Its decision to end preferential tariffs to $5.6 billion of Indian exports under GSP from June 5. -1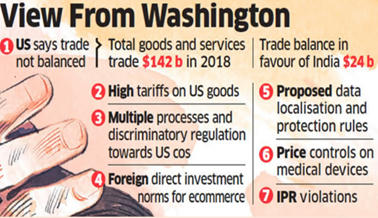 India-China Trade
India has sought greater access for agricultural and animal husbandry products in Chinese market to boost our exports and to Bridge trade deficit.
Necessary documents for bovine meat, milk and milk products have been submitted to China's General Administration of Customs of China (GACC).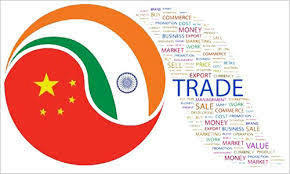 China does not permit imports of Indian meat due to fears over Foot and mouth disease. India answered that it is exporting meat to as many as 70 countries since several years.
The ban was imposed on apprehensions of melamine presence in some milk consignments from Melamine is a toxic chemical used for making plastics and fertilisers.
India also wants a great market access for pharmaceuticals.
WTO ministerial meeting
WTO ministerial meeting of 16 developing and six least-developed countries will be held in New Delhi. The main focus of this meeting is the appointment of appellate body members at the World Trade Organisation and reforms at the global trade body with the aim, how to constructively engage on various issues at both institutional and negotiating.
The World Trade Organization (WTO) is the only global international organization dealing with the rules of trade between nations.Headquarters- Geneva, SwitzerlandEstablished in- 1995
India is not a Tariff King
US President Donald Trump has labelled India the "tariff king".
According to the WTO data, New Delhi has exercised "maximum self-restraint" in taxing imports.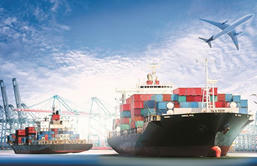 India's average bound rate (Maximum rate of tariff allowed by World Trade Organisation (WTO) to any member state for imports from another member state) is as much as 5%.
India's actual applied tariff is as low as 8%.
Wilbur Ross on India: ICT products (20%), motorcycles (50%), automobiles (60%) and alcoholic beverages (150%).
US charges 350% on tobacco, 163.8% on peanuts, 48% on footwear, 38% on glassware for toilet and 32% on shoes.
WTO's dispute body
As many as 17 developing nations, including India and China pitched for resolving the deadlock over the appointment of members to the WTO's appellate body at the earliest.
These nations say that it could lead to a complete paralysis in the dispute settlement mechanism of the multilateral trade body by December if members don't act fast. This was part of a declaration released after a two-day ministerial meeting of 22 developing and least developed member countries of the World Trade Organisation (WTO) in New Delhi. The Delhi Declaration was signed by 17 of the 22 participating countries.
The declaration also made a strong case for preserving flexibilities that are being offered to developing countries under the WTO's special and differential treatment (S&DT) provisions, as they are rights of developing nations.
S&DT is one of the main defining features of the multilateral trading system and is essential to integrating developing members into global trade. S&DT provisions are rights that must be preserved and strengthened in both current and future WTO agreements.
The World Trade Organization (WTO) is the only global international organization dealing with the rules of trade between nations.
Headquarters- Geneva, Switzerland
Established in-

1995
Japan drags India to WTO
Japan has dragged India to the World Trade Organisation (WTO) over the "continuously and systematically" raise import duties on certain electronic goods after the announcement of 'Make in India' campaign in September 2014.
It has also alleged that these import duties are in excess of bound rates, which is a ceiling of import duty beyond which a WTO member country cannot go.
Pakistan airspace to remain shut for Indian Flights
Pakistan on May 15 decided not to lift its airspace ban for Indian flights till May 30, awaiting the outcome of the LokSabha polls in India. Pakistan fully closed its airspace after an Indian Air Force strike on a Jaish-e-Mohammed terror camp in Balakot on February 26. Now opened its airspace for all flights except for New Delhi, Bangkok and Kuala Lumpur .
The airlines and civil aviation authorities of both the countries are enduring massive losses.
Black money details
The government has declined to share information on black money cases received from Switzerland, citing confidentiality. Finance Ministry said India and Switzerland share information on black money on a case to case basis as per the investigations being carried out.
The information shared by Switzerland on black money cases is governed by confidentiality provisions.
India and Switzerland are signatories to Multilateral Convention on Mutual Administrative Assistance in Tax Matters (MAAC) on November 22, 2016.
Questioning Pak against terror outfits
Pakistan's seriousness to act against proscribed terror outfits and its efforts to curb money laundering and terror financing were questioned by members of a regional affiliate of the Financial Action Task Force (FATF) at a meeting held in China.
India raised very tough questions about Pakistan's seriousness. Finance Minister ArunJaitley said India will ask the FATF to put Pakistan on a blacklist of countries that fail to meet international standards in stopping financial crime.
In March, bowing down to international pressure, Pakistan launched a major crackdown on Jaish-e-Mohammad, Jamat-ud-Dawa, and other banned outfits and took over the control of their assets throughout the country.
India RCEP Trade
The Regional Comprehensive Economic Partnership (RCEP) bloc companies 10 Asean group members and their six FTA partners.
According to the provisional trade data, India's trade deficit (the difference between imports and exports) with three countries (Brunei, Japan and Malaysia) has in fact increased marginally in 2018-19 as compared to the previous fiscal.
Trade deficit with Australia, China, Indonesia, Korea, New Zealand and Thailand has narrowed in 2018-19 as compared to the preceding fiscal.
Experts have mixed views over the impact of increasing trade gap on India's position in negotiating mega free trade agreement.
An official said that India does not have free trade agreement with two of its biggest trading partners- the US and China– but the country has highest positive balance of trade with America, while it has highest deficit with China.
RCEP negotiation started in Cambodian capital Phnom Penh in November 2012 with the aim to cover goods, services, investments, economic and technical cooperation, competition and intellectual property rights.
WTO consultations on India
Singapore and Canada have expressed interest in joining consultations in a case filed by Japan in the WTO's dispute settlement body against India's import duties on certain information and communication technology products, including mobile phones.
The European Union, China and Thailand have expressed interest to join consultations in a case filed by Japan at the WTO against India's import duties on certain information and communication technology products, including mobile phones.
Bound tariffs or duties refer to the ceiling over which a WTO member country cannot impose import duty, the applied tariff is the duty which is currently in place.
Canada has said that during 2016-2018, India's imports from Canada of ICT products have aggregated at USD 28.7 billion.
Currency monitoring list
US government has removed India from its monitoring list for currency manipulation. This will hopefully set the tone for discussion of the Generalized System of Preferences (GSP) issue.
India was first included in the currency watch list in 2017 after the Reserve bank of India has added $52 billion.
India Kyrgyzstan
President of Kyrgyzstan Sooronbay Jeenbekov, who holds the current chair of the Shanghai Cooperation Organization, is a surprise special guest at the swearing-in ceremony of Prime Minister Narendra Modi.
Kyrgyzstan is sharing a request for defence equipment from India, taking the strategic relationship beyond the current level of bilateral exercises and the construction of a joint mountain warfare training centre. India is likely to extend a line of credit to Kyrgyzstan $100 million.
Bilateral relations have been on a strong footing since 2011 when the joint 'khanjar' series of exercises started. Since then three IT-Centres have been established by India.
Fishing & WTO
India is proposing to introduce a new discipline to put an end to subsidies which lead to illegal, unregulated and uncontrolled fishing globally. It has suggested capping 'non-specific' fuel subsidies or those that are not targeted at a particular industry.
The US and European Union (EU) have opposed the proposal as they give such subsidies to transport and water sports sector on the other hand African, Arab and Latin American countries have supported
Fuel subsidies comprise 60% of total fisheries subsidiesandalmost95% of the fuel subsidies are nonspecific in developed countries.
Make Notes