Tough stand SA 701
The ministry of corporate affairs (MCA) has decided not to extend the deadline for applicability of Standard on Auditing SA 701 till March 31, 2020, despite a demand from the Institute of Chartered Accountants of India (ICAI).
The ministry has stated that "enough time" was given to auditors to familiarise themselves with SA 701, (first issued by the ICAI in May 2016 and was applicable for audit of financial statements after April 1, 2017) which involves communicating key audit matters (KAM).
UN Designates JeM Chief Masood Azhar As Global Terrorist
UN designates Masood Azhar as global terrorist. In a huge diplomatic win for India, the United Nations today designated Pakistan-based Jaish-e-Mohammed Chief Masood Azhar as a "global terrorist" after China lifted its hold on a proposal to blacklist him.
The UN Security Council has primary responsibility for the maintenance of international peace and security.
It has 15 Members, and each Member has one vote.
Samsung for Make in India
Electronic giant Samsung has lined up fresh investment of around Rs 2,500 crore to turn its India operations into a hub for components business.
The Korean company has set up two new component manufacturing entities in India- Samsung Display Co and Samsung SDI India– for production of mobile phone display and batteries.
Samsung sees a big opportunity for component business considering the government's thrust on 'Make in India' where the tax on imported mobile phone components and consumer electronics is going up. Samsung is also pitching to the government for export incentives so that it can even export components from India.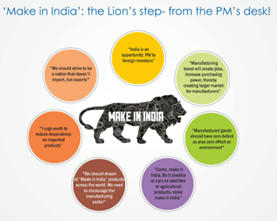 Samsung Display has already signed a MoU

with the

Uttar Pradesh governmen

t for Rs 1,500 crore  plant for manufacturing mobile display.

Make in India, a type of Swadeshi movement covering 25 sectors of the economy, was launched by the Government of Indiaon 25 September 2014 to encourage companies to manufacture their products in India and enthuse with dedicated investments into manufacturing.
Meity to verify social media fake accounts
The ministry of electronics and IT (MeitY) is exploring the option of verifying user's profile on social media platforms such as Facebook, Whatsapp and Twitter which it feels could help check fake accounts that indulge in anti-social activities like spreading dubious information and propaganda. Individual online account of users of social media platforms should be verified and fake ones weeded out.
Whtaspp's payments services and the Supreme Court
WhatsApp's payments services came under fire from the Supreme Court.
The issue at stake is that overseas firms like WhatsApp need to store all financial data within the country under a Reserve Bank of India notification. The deadline for meeting the norm for local storage of financial data ended on October 18, 2018.
Since WhatsApp's payments services is still in pilot stage and has not received the permission of National Payments Corporation of India to go live, technically it is not ain violation of any guidelines.
The Supreme Court took note of a petition filed by an NGO Centre for Accountability and Systemic Change (CASC) which has claimed that WhatsApp has not fully complied with the RBI's circular which prescribed data localisation norms.
RBI is free to prosecute it for failing to comply with data localisation norms.
CEA included in finance panel's advisory council
Chief Economic Advisor (CEA) Krishnamurthy Subramanian has been included in the Advisory Council (set up in April 2018) of the 15th Finance Commission (2020-2025) as its member.
The Advisory Council was set up to advice the commission on any issue or subject related to the terms of reference (ToR) of the commission, and also to assist in the preparation of any paper or research study which would enhance the commission's understanding on the issue contained in its ToR.
Reliance Jio to launch GigaFiber to improve call quality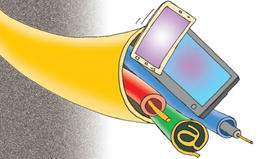 Reliance Jio, which is working on the launch of its Fibre-to-home wirelineBroadband services JioGigaFiber. It will offer automatic routing of mobile voice services through landing networks, thereby improving call quality by reducing call drops in a big way.
Once JioGigaFiber is rolled out, subscribers will be able to set their Jio mobile phones in a manner that once they are home, the voice calls will get routed through their fibre-based landline network. It will work in exactly the same manner as today mobile data and Wi-Fi data get synergised.
Absence of a transparent liquidation policy
The absence of a transparent liquidation policy has resulted in India accumulating foodgrains 2.7 times the buffer norm in its official reserves after a gap of six years.
The foodgrains stock in the Central Pool was 82 million tonne as of April 1, against the buffer norm of 21.04 million tonne.
Ashok Gulati, a former chairman of the Commission for Agricultural Costs and Prices (CACP): "This is the height of economic inefficiency. Stocks need to be liquidated in the domestic market through open market sales scheme (OMSS) or exported".
"The current system is extremely ad hoc, slow and costs the nation heavily. A transparent liquidation policy is the need of hour, which should automatically kick in when FCI is faced with surplus stocks than buffer norms.
India's consumption story losing the plot
Consumption is sputtering across a range of products including cars, two-wheelers,air travel and fast-moving consumer goods (FMCG), with volumes dropping to multi-quarter lows.
The decline in demand stems from an income growth slump in urban and rural areas that's forced people to curb spending, falling moneysupply in the economy and rising uncertainty over how customers will respond to regulatory action.
The next government may need to prime the pump as consumption has been one of the engines that has been driving the economy in the absence of private investment and
Passenger car volumes have dropped in nine of the past 10 months. Farm income growth has been weak for over two years with prices having stayed low.
Services activity at 7 month low in April on slow sales
India's service sector activity slipped to a seven month low in April, due to weak rise in sales amid competitive pressures and disruptions arising from elections.
Nikkei India Services Purchasing Managers' Index (PMI) dropped to 51 in April from 52 the previous month.
The Nikkei India Composite PMI Output Index, which combines both service and manufacturing, fell from 52.7 in March to 51.7 in April.
Predictions that economic conditions will normalise after the elections.
The Delhi High Court's recent stay on anti-profiteering proceedings against Abbott Healthcare opening a window for other firms to become party to the case that challenges constitutional validity of the provision in the GST law, also questioned the practice of anti-profiteering authorities to expand the scope of investigation to multiple products of the same company after completing probe on one.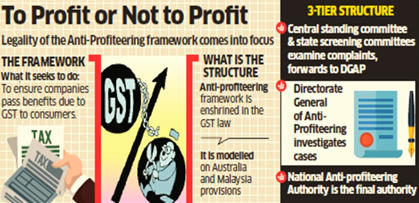 Chief Economic Advisor Krishnamurthy Subramanian on NBFC crisis
At present there is a mounting fears that more non-banking financial companies (NBFCs) may default like IL&FS due to a growing liquidity crunch.CEA said that the issue is actually one of solvency of a very few players.
ASSET-LIABILITY mismatch of firms in the entire shadow-banking space needs to be "very tightly and carefully monitored" to ensure the crisis doesn't recur or flare up.
Subramanian said the economy will likely grow at 7%-plus in the current fiscal, against the estimated 7% for FY19. Structural reforms like GST and Insolvency and bankruptcy code (IBC) have already been undertaken. He prescribed the option of a seven-day default rule for lenders if the one-day default rule is too difficult to be implemented.
Jet Airways crisis
The ministry of corporate affairs (MCA) is understood to have asked the Serious Fraud Investigation Office (SFIO) to begin a probe into Jet Airways on suspicion that the promoters siphoned off money.
The move follows after the MCA started a preliminary enquiry into the company by inspecting its books. The MCA also want a probe as to how Jet suddenly turned in a loss in FY18 after posting a profit for a couple of years.
Founder-Naresh Goyal
Founded in- 1 April 1992
Android abuse
Competition Commission of India has ordered an investigation into Google for allegedly abusing the dominant position of its popular Android mobile operating system to block rivals.
The CCI last year started looking into the compliant, which is similar to the one Google faced in Europe that resulted in a $5-billion fine on the company.
The probe will be completed in about a year and Google executives will likely be summoned to appear before the CCI in coming months.
Google Headquarter- California, US
Founded in- 1998
CEO-Sundar Pichai
Ease of Doing Business
In an attempt to bring down the compliance burden on companies, especially the small and medium enterprises (SMEs), the commerce ministry has urged the ministry of corporate affairs (MCA) to explore avenues where firms can opt for self-certifying their returns as well as clubbing all the returns to be filed in a year into a single annual return.
A commerce ministry official said that the government is committed towards creating a conducive business environment by streamlining such regulatory structures. "Moving away from profession certifications to self-certification would greatly increase the risk of fraud, wilful misstatement and suppression of facts leading to corporate mismanagement".
Shutting down ATMs
Finding an ATM in India is getting tougher even as dependence on cash persists. Tighter regulations are making it more costly to run the machines.
According to the IMF, India already has the fewest ATMs per 100,000 people among BRICS nations.
The drop may continue as banks and ATM operators struggle to absorb the cost of software and equipment upgrades.
ATM operators which include banks as well as third parties charge a so-called interchange fee of 15 rupees to the lender whose debit or credit card is used for cash withdrawals. Interchange fees are the biggest factor behind muted growth of ATMs.
The declining number of ATMs is likely to further boost mobile banking,grew 65 times in the past five years alone.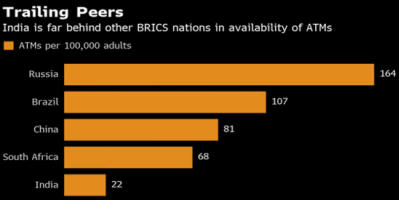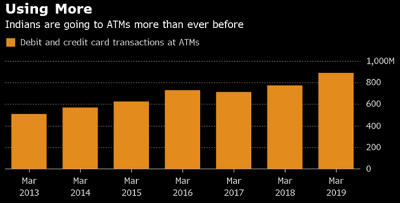 Exports & Trade Deficit
India's export growth slid to a four-month low of 0.64% in April as shipments of engineering goods, gems & jewellery, leather and other products declined, widening the trade deficit to a five-month high.
Imports increased by 4.5% to $41.4 billion, the highest growth in the last six months.
India's digital economy
India is taking a great digital leap.
The country is now seizing new digital opportunities in many more sectors, such as agriculture, education, energy, financial services, health care, and logistics, which could deliver up to $500 billion of economic value by 2025.
India's digitisation process has been the second-fastest among the 17 mature and emerging economies. It has 560 million Internet subscribers.
Indians downloaded 3 billion apps, second only to the Chinese. Indians used more than 54 times as much data, on average, in 2018 than in mid-2016.
Both the public and private sectors have played an important role in driving digitization.
2 billion Peoplenow enrolled with Aadhaar. Many public services are now accessible only when linked to the government's Aadhaar biometric digital-identification program.
The private sector has facilitated this process, as competition has helped to reduce data costs by 95% from 2013 to 2017 and to make smart phones affordable.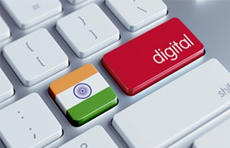 In financial services, the surge in digital payments and related data is already enabling flow-based lending whereby actual patterns of receipts and payments rather than loan applications are used to evaluate potential borrowers.
We estimate that, by 2025, technology could estimate between 40-45 million mostly routine jobs in areas such as clerical services and data entry. It will also help to create some 60-65 million higher-quality jobs.
Digital India launched in– 1 July 2015
CERC for Power Companies
Central Electricity Regulatory Commission (CERC) has allowed power companies to claim compensation for the additional cost of coal procured from alternative sources due to Coal India's failure to meet supply obligations. Such compensation facility was available for the FY14-FY17.
The compensation on account of coal shortage would be worked out according a formula prescribed by the CERC on a case to case basis.
As per the modified fiats of the New Coal Distribution Policy (NCDP), power plants receive 75 per cent of their contracted fuel quantities through CIL linkages.
Refurbished mobile
India has finally allowed import of refurbished or second mobile phones, subject to the condition that they are certified by the Bureau of Indian Standards (BIS).
Though the move meets demands of mobile operators like Apple, which has been seeking permission for import of refurbished iPhones for the past few years, analysts said the process is cumbersome and fraught with risks.
The government was earlier against import of refurbished electronics products into the country, fearing that companies may use it to dump hazardous electronic waste. It would negate the effect of Make in India initiative.
States should contribute
State governments should contribute in funding for defence, national highways and railways projects, said BibekDebroy, Chairman of Economic Advisory Council to Prime Minister (EAC-PM).
Fiscal consolidation is important, he said there is a need to prioritise and decide areas that are important from point of view of public administration.He said as long as we have tax exemptions we will not have simplified tax structure.
AI in MCA 21 portal
Corporate affairs ministry plans to introduce artificial intelligence system in the MCA 21 Portal as it seeks to make compliance process easier as well as ensure routine enforcement activities are done round-the-clock on autopilot basis.
MCA 21 is the electronic backbone for dissemination of information to all stakeholders, including the regulator, corporate and
Regulatory framework
TRAI will decide whether over-the-top (OTT)communication applications like WhatsApp, Skypeetc, should be brought under a regulatory framework.If it decides to bring them then these apps will have to get licences from the government to operate just as telecom operators have to currently do.
Telecom service providers (TSPs) are governed by a definite set of obligations under their licensing conditions, no such obligations are applicable on OTTs.
TRAI formed on- 20 February 1997
New standards for measuring
India adopted a global resolution to redefine four of the seven base units. Four of the seven base units passed by representatives of 60 countries at the General Conference on Weights and Measures (CGPM).
Kilogramme, Kelvin, Mole, Ampere.
It has been implemented across the world on May 20- World Meteorology Day.
The purpose of a system unit is to enable worldwide coherence of measurements.
MSDE on Reforms
Ministry of Skill Development and Entrepreneurship's top agenda for next government is to-
Operationalisation of the skills regulator,
An enhanced apprenticeship programme
Rejuvenation of 2,500 ITIs.
To impart improved training to make youth job-ready.
Last October, cabinet okeyed National Council for Vocational Education and Training (NCVET). NCVET will regulate the functioning of entities engaged in vocational education and training, and establish minimum standards for them.
It will also focus on research, information dissemination and grievance redressal.
The ministry will have to work with the states and attract public investments in Industrial Training Institutes to make them world-class.
The aim was to impart skills training to 400 million people by 2022 through flagship schemes such as Pradhan Mantri Kaushal Vikas Yojana, the DeenDayal Upadhyaya Grameen KaushalyaYojana.
TPCI on RCEP
Trade Promotion Council of India (TPCI) said that the proposed RCEP, which is a mega free trade agreement, could lead to flooding of goods in the Indian market from the member countries.
The RCEP deal is expected to hurt India's export competitiveness as the trade balance is already skewed.
Pressure is mounting on India for early conclusion of the proposed trade pact.
OECD on Indian Economy
India's economic growth will regain strength and approach 5%by 2020 buoyed by rural consumption and subdued inflation, the Organisation for Economic Co-operation and Development (OECD) said in its Economic Outlook.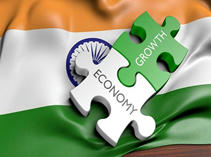 This growth will come from higher domestic demand due to improved financial conditions, fiscal and quasi-fiscal stimulus, including new income support measures for rural farmers, and recent structural reforms.
Individual insolvency
Government is preparing individual insolvency regulations under the Insolvency and Bankruptcy Code (IBC).
It will provide for debt waiver

Up to Rs 35,000
To the poorest of the poor
Who have borrowed money from not just banks but also informal sources like village money lenders
Once the regulations are in place,

the poor who don't own houses,
earn up to Rs 60,000 a year
have assets up to Rs 20,000 will be eligible to apply for such a relief.

The regulations will be among the first set of measures to be implemented under the new government.
Government believes it will be more effective than populist moves like farm loan waivers that involve relief from just bank debt and is mostly exploited by rich farmers.
Elephant Bonds
In September last year, a 12-member group, was set up by the Commerce Ministry, suggested issuance of Elephant Bonds also recommended a host of other measures.
Elephant Bonds: people declaring undisclosed income will have to mandatorily invest half of that amount in these securities.
Increasing India's exports of goods and services from USD 500 billion is 2018 to over USD 1000 billion in 2025.
Lowering effective corporate tax rate.
Simplifying regulatory and tax framework for foreign investments funds. The group recommended increasing capital base of EXIM Bank by another 20,000 crore by 2022.
Setting up of empowered investment promotion agency and seeking inputs from industry and MSMEs before signing free trade agreements (FTAs) and sensitising them of its benefits.
"State governments need to be closely involved in improving the competitiveness of exports by providing support measures in a WTO (World Trade Organisation) consistent manner".
The seven industry specific suggestions include separate regulation for medical devices and a single ministry for the sector.
For textiles and garments sector, it suggested modification in Labour laws to remove limitation on firm size and allow manufacturing firms to grow, also to promote tourism and medical value tourism.
To promote agriculture exports, it has asked for abolishing Essential Commodities Act and the APMC (Agricultural Produce Market Committee).
Energy goals for poorest nations
Report produced by the World Bank and other international bodies like International Energy Agency, World Health Organization, United Nations Statistics Division, International Renewable Energy Agency.
More than 150 million people are gaining access to electricity every year, but this is not enough to meet global development goals.
In 2015, all United Nations member states adopted 17 goals for sustainable development by 2030 in areas such as education, climate, and gender equality as well as access to energy.
With 11 years to go, signs still point to failure. If governments do not make faster progress, 650 million will still live in the dark by 2030,90 percent of whom will be in Sub-Saharan Africa.
1,000-crore fund for start-ups
The government proposes to introduce a slew of reforms and another fund to boost start-ups that are focused on priority areas such as
Rural healthcare
Water and waste management
Clean energy solutions
Cyber security and drones
DPIIT plans to set up an India Start-up Fund with an initial amount of Rs 1,000 crore.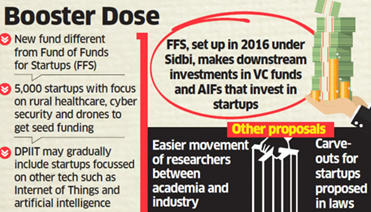 Arvind Panagariya on new REFORMS
Economy is the issue number one and that impacts everything else, even our international standing gets influenced by how well the economy does. I am pretty confident that the new government will move on several fronts as soon as the cabinet is in place.
He said, it would be good if the government in its first 100 days gives a very strong signal for its commitment to reforms.
The final budget will be presented probably in July, maybe even in June, and/or even before that a number of things could be announced including the corporate profit tax.
The government could also give a signal by rolling back many of the tariffs that had been raised in the past two years. The government can do is to also speed up privatisation, It is time to actually carry out that mandate.
NPA cleanup needs to be speeded up.
The industry needs to shape up a little better and I have never understood this whole talk about consumption slowing down, because the global economic is large. There were interest rates complaints, particularly auto when you say for 70 years they have been protected with 100 plus kind of tariffs. Automobiles are paying a punishing kind of price for automobiles.
The wages in China have really gone up now and our wages significantly lower and that alone gives us a big advantage in large number of labour-intensive industries.
The trade war between the United States and China have deep roots and therefore it is not going to go away so quickly and that does give us a major opportunity to break into both the American market because Chinese now are facing higher barriers in the American market and in the Chinese market because now the Americans are facing high barriers in the Chinese market. We have got a double opportunity
I found this repeatedly in my experience at the NITI Aayog that the ministries do not work in national interest, they work in their narrow interest of the ministry itself.
DPIIT for shortening compliance time to just 1 hr/ month for start-ups
The Commerce and Industry Ministry has proposed cutting down compliance time significantly to just one hour per month for start-ups as part of measures to ease regulatory requirements for budding entrepreneurs.
The proposal is a part of 'Start-up India Vision 2024', prepared by the
Department for promotion of Industry and Internal Trade (DPIIT) for the new government to promote the growth of budding entrepreneurs.
At present, start-ups comply with a plethora of requirements such as GST filings, tax returns and other local laws every month. Compliance to these processes takes a lot of time and
Monthly compliance for start-ups needs to be reduced to one hour per month so that they can concentrate on their core work.
The vision document has suggested some important measures-

Setting up of a regulatory sandbox or innovation hub to help fintech start-ups;
Tax incentives for investments in ventures of budding entrepreneurs;
Reduction in GST rates on alternate investment fund management services;
Amendment in income tax laws pertaining to sale of residential properties and carrying forward of losses.
Deployment of entire corpus of Rs 10,000 crore Funds of Funds.
Excess' stocks of FCI creates huge losses
Till 1st April 2019 FCI & state government agencies were holding excess food grain stock worth Rs 1.18 lakh crore.This was even as fiscally-stressed Centre's food subsidy dues to FCI were close to a staggering Rs 2 lakh crore at the start of this fiscal and for the third year in a row.
FCI borrowed an additional of Rs 60,000crore from the NSSF in April 2019 to ensure its operations under the National Food Security Act are not disrupted.
While offloading the excess stocks appears to be a rational option for the FCI rather than pile up more debt, it lacks a policy mandate to exercise that choice.
Even if the FCI were to sell the excess stock in the open market now, it would fetch some Rs 30,000 crore less than the cost incurred by it to create it.
CII demands for lowering corporate tax rate
Industry body Confederation of Indian Industry (CII) has called for lowering corporate tax rate, kick-starting government expenditure and rationalisation of dispute tax resolution mechanism. Dividend distribution tax should be rationalised to 10% (from 15% currently).
Long-term capital gains tax on equities and MAT should be
Government stake in public sector banks should be reduced from 70% currently to 51% to enable capital infusion and promote efficiency in public sector banks.

378 companies under IBC
As many as 378 companies with total creditor claims of Rs 2,57,642 crore have so far been sent into liquidation under the Insolvency and Bankruptcy Code.64 companies, or more than 16%, had received bids higher than the liquidation value of the assets.
Liquidation value is the estimated realisable value of the assets of a corporate debt or if it is liquidated at the beginning of the insolvency proceeding.
Based on the liquidation value, creditors to the companies sent into liquidation would on an average recover only 7.1% of their admitted claims.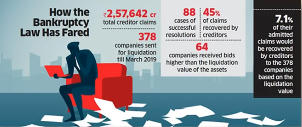 IBBI data also showed that in the 88 cases of successful resolutions under the bankruptcy law since it came to effect in December 2016, operational creditors and financial creditors recovered about 48% of their claims.
100-day agenda for the new Government
The commerce and industry ministry has proposed creation of a separate department for trade facilitation and logistics for better coordination among different government agencies.
In its 100-day agenda for the new government, the ministry said, "Economic Advisory Council to the Prime Minister (PMEAC) has also recommended the same.
India's logistics and transportation costs are pegged at 4% of the gross domestic product, much higher than China's 8%.
Multi-Modal Transportation of Goods (MMTG) Bill will be introduced in Parliament to replace the existing MMTG Act, 1993.

Index to rank states on artificial intelligence adoption
Artificial intelligence (AI) readiness index by NITI Aayog that will rank states on their capacity to adopt the technology for public service delivery and exploit its innovative potential.
One of the main roles of NITI is to promote competitive and cooperative federalism.
AI's potential is $957 billion to India's GDP growth & 1.3 percentage points by 2035.

The NITI Aayog is a policy think tank of the Government of India, established with the aim to achieve Sustainable Development Goals and to enhance cooperative federalism by fostering the involvement of State Governments of India in the economic policy-making process using a bottom-up approach.
World-class infrastructure club
A task force on project management led by Niti Aayog chief executive Amitabh Kant has pitched for a dedicated policy framework for public-private partnerships and public sector projects to improve efficiency.
National project/ Programme Management Policy Framework (NPMPF) should be made part of all future contracts so that we can create world class infrastructure.
The task force has also recommended a dedicated workforce be developed with expertise in smooth rollout, implementation and completion of all projects, much on the lines of the US and UK, to assist in project implementation.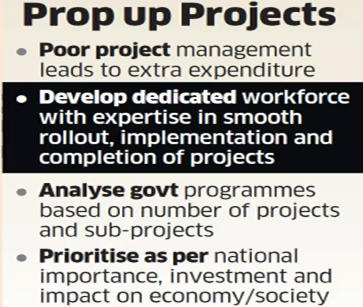 Make Notes