China launches next-generation space capsule on Long March 5B rocket test flight
China successfully launched a new rocket and prototype spacecraft, state media said, in a major test of the country's ambitions to operate a permanent space station and send astronauts to the Moon.
The successful flight inaugurates the "third step" of China's manned space program, which is to construct a space station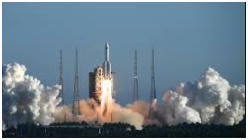 China Capital: Beijing; Currency of China: Renminbi.
President of China: Xi Jinping.
WHO and UN's postal agency releases commemorative stamp on 40th anniversary of smallpox eradication
The World Health Organization (WHO) and the United Nation (UN) postal agency released a commemorative postage stamp on the 40th anniversary of the eradication of smallpox. Dr Tedros Adhanom Ghebreyesus, WHO Director-General, was the speaker on the occasion held in Geneva, Switzerland.
Headquarters of WHO: Geneva, Switzerland.
Director-general of WHO: Tedros Adhanom.
Make Notes