World's first blockchain-based carbon trading exchange in Singapore
Singapore-based AirCarbon Pte launched the worlds' first blockchain-based carbon trading exchange.
This will allow airlines and other corporate buyers to buy as well sell tokens backed by carbon offset credits approved by the International Civil Aviation Organisation.
Spanish capital Madrid to host COP 25
Madrid will host the 25th United Nations Climate Change summit (COP25) from December 2 to 13 after Chile's resignation.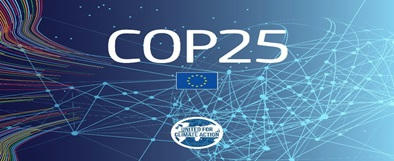 The annual Conference of the Parties (COP) summit is a key event which allows representatives from around 200 nations to monitor and discuss the current situation of the world's warming climate.
Guyana to be fastest growing country in the world next year at 86%
According to the International Monetary Fund (IMF), Guyana's GDP is expected to be more at 86% in 2020 after expanding 4.4% in 2019.
Guyana' GDP is to get fourteen times as fast as China's GDP in 2020.
It is a country of South America with 7,80,000 population and neighbour countries are brazil & Venezuela.
President of Guyana – David A.Granger
Prime minister – Moses Nagamootoo.
Currency of Guyana – Guyanese Dollar
Capital – George Town
China launches Sudan's first ever satellite "SRSS-1"
Sudan's first-ever satellite, SRSS-1, was launched by China on November 3, 2019 from Shanxi Province in north China.
The remote-sensing satellite has been launched to conduct research in economic, military and space technology.
The satellite aims to generate a comprehensive, cost-effective and reliable database on the topographic, mapping and natural resources of Sudan.
President of Sudan – Omar al-Bashir
Sudan Capital – Khartoum
 Currency – Sudanese pound
Serbia's Sara Damnjanovic wins "Miss Asia Global title 2019"
Sara Damnjanovic from Serbia has been crowned 'Miss Asia Global 2019', organized at Gokulam Convention centre in Kochi, Kerala.
Samiksha Singh from India won the sub-title of 'Miss Beautiful Face' Title.
The Next 'Miss Asia Global Title 2020' will be held in Malaysia
Sheikh Khalifa bin Zayed Al Nahyan re-elected as President of UAE
The UAE's Supreme Council of the Union has re-elected his Highness Sheikh Khalifa bin Zayed Al Nahyan as its President for a 4th five-year term, in accordance with the provisions of the UAE Constitution.
He was first elected President on November 3, 2004, following the death of his father Shaikh Zayed Bin Sultan Al Nahyan.
Arvind Singh takes over as AAI chairman
Arvind Singh, a Maharashtra cadre officer of the prestigious Indian Administrative Service (IAS), took over as the chief of Airports Authority of India (AAI).
Prior to the appointment at AAI, Singh was Additional Chief Secretary (Energy) with the Maharashtra government.
Singh will replace Anuj Aggarwal, who had earlier been with the additional charge of AAI chairman.
Pravind Jugnauth sworn in as Mauritius PM
Mauritius's incumbent Prime Minister PravindJugnauth was sworn in for a five-year term after elections in which his coalition consolidated its grip on parliament.
He took over from his father in 2017 without going through a vote, and the decisive victory of his centre-right Morisian Alliance in the November 7 elections has strengthened his legitimacy.
Mauritius Capital -Port Louis
Currency – Mauritian rupee.
Prime Minister- Pravind Jugnauth
Make Notes