SBI becomes first Indian bank to have office in Australia's Victoria
State Bank of India opened its Melbourne office and becoming the first Indian bank to have a branch in the Australian state of Victoria.
The Melbourne office will assist the growing trade and investment relations between Victoria and India and is the outcome of the state's 10-year India Strategy.
SBI Chairperson- Rajnish Kumar
 Headquarters- Mumbai
 Founded- 1 July 1955.
RBI reduces repo rate by 25 basis points in 4th BI-monthly Monetary Policy

The Reserve Bank of India (RBI) has slashed the policy repo rate under the liquidity adjustment facility (LAF) by 25 basis points to 15 % from 5.40% with immediate effect.
The reverse repo rate under the LAF stands reduced to 90% , and the marginal standing facility (MSF) rate and the Bank Rate to 5.40%
RBI has also reduced the real GDP growthfor 2019-20 from 9% to 6.1%.
Governor of RBI- Shaktikanta Das
Headquarters-Mumbai
Founded- 1 April 1935, Kolkata.

UCO bank launched 3 new digital products
UCO Bank has launched three new digital products called, UCash, Digilocker and an app in Kolkata, West Bengal.
UCash enables customers to withdraw money from ATMs through mobile banking without using a debit card.
Digilocker aims to eliminate the use of physical documents and enables sharing of verified electronic documents.
The third product, the new mobile app, integrates four existing apps of the bank – UCO Mbanking, UCO UPI, UCO Mpassbook and UCO Secure- in a single interface.
Headquarters- Kolkata, West Bengal.
MD & CEO of UCO Bank-  Atul Kumar Goel
RBI rejects Indiabulls Housing & Lakshmi Vilas Bank merger deal

The Reserve Bank of India has rejected the proposed merger between Lakshmi Vilas and Indiabulls Housing Finance.
RBI has rejected the application for voluntary amalgamation of Indiabulls Housing Finance Ltd. and Indiabulls Commercial Credit Ltd. with the Lakshmi Vilas Bank Ltd.
Chairman of Indiabulls Group: Sameer Gehlaut.
RBI approves merger of DCBs to form 'Kerala Bank'
The Reserve Bank of India has given the approval for the merger of district co-operative banks in Kerala. The combined entity will be called the 'Kerala Bank'.

Except the Malappuram District Cooperative Bank, all district banks had approved the scheme of amalgamation proposed by the State government at their respective general body meetings.
Now, the government have to complete the stipulations laid for merger and submit a compliance report to the apex bank before March 31, 2020.
Governor of RBI- Shaktikant Das
 Headquarters-  Mumbai
Founded- 1 April 1935, Kolkata.
Moody's cuts India's GDP growth forecast to 5.8% for FY20

Moody, the rating agency has lowered its 2019-20 GDP growth forecast for India to 5.8% from 6.2%.
It stated that the Indian economy is experiencing a pronounced slowdown partly due to long-lasting factors.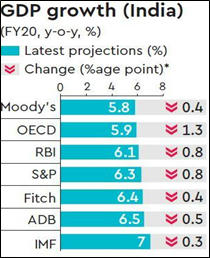 ICICI Bank launches new FD scheme "FD health"

ICICI Bank has launched a new Fixed Deposit (FD) scheme – FD Health.
The scheme offers FD with a health benefit through critical illness coverage. Customers will be offered a complimentary insurance cover of Rs 1 lakh.
FD investors, who are in the age bracket of 18-50 years, get a complimentary insurance cover for a year on 33 critical illnesses.
The critical illness cover will be available on Cumulative FDs opened for a period of a minimum of 2 years.
MD & CEO of ICICI Bank- Sandeep Bakhshi.
Tagline- Hum Hai Na, Khyal Apka.
Headquarters- Mumbai.
India Post launches mobile banking facility for savings accounts

India Post launches mobile banking facility for its savings accounts customers.  The facility will be available from October 15 for all the post office savings account holders of the CBS post offices.

SBI Card launches contactless mobile phone payments facility

SBI Card announced the launch of 'SBI Card Pay' feature which allows contactless payment using mobile phones at PoS terminals.
Using SBI Card Pay, customers can make contactless payments at near field communication (NFC) enabled point of sale terminals with just one tap of their mobiles, without using the physical credit card or entering any PIN.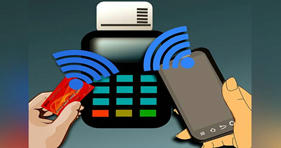 CEO of SBI Card – Hardayal Prasad
Headquarter – Gurugram, Haryana.
Vreedhi Financial Services receives an NBFC licence from RBI

Vreedhi Financial Services (VFS)has secured a non-banking finance company licence from the Reserve Bank of India.
It's objective is to provide credit and other services to micro-enterprises operating in tier two-three cities and small towns.
The company will create a digital lending model by the next financial year.
RBI Fined Rs 35 lakh penalty on Tamilnad Mercantile Bank

The Reserve Bankhas imposed a penalty of Rs 35 lakh on Tamilnad Mercantile Bank for violating norms on frauds classification and notification.
It stated that the bank has been penalized for non-compliance with certain provisions of directions issued by RBI on fraud classification and reporting by commercial banks and select FIs directions 2016.

Did you know?

Securities and Exchange Board of India (SEBI) was established in 1988 as a replacement of the Controller of Capital Issues (CCI) which was the regulatory authority before SEBI.
The Goods and Services Tax (GST) was first implemented in France.
GST was first implemented in India at Assam.
Make Notes