Chief Minister of Andhra Pradesh launches 'YSR Vahana Mitra'
Chief Minister YS Jagan Mohan Reddy launched the "YSR Vahana Mitra" scheme which provides Rs 10,000 allowance to self-employed drivers of autos, taxis and maxi cabs.
The allowance of Rs 10,000 would be given every year and the amount will be credited into the bank accounts directly.
Andhra Pradesh Governor- Biswa Bhusan Harichandan
AIM NITI Aayog & UNDP India launches Youth Co: Lab

Atal Innovation Mission (AIM), NITI Aayog and United Nations Development Programme (UNDP) India jointly launched Youth Co: Lab.
The lab aims at accelerating social entrepreneurship and innovation in young India and to recognize young people as critical drivers of sustainable development.
Through Youth Co: Lab, young entrepreneurs and innovators will get a chance to connect with governments, mentors, incubators and investors. They will also get the opportunity to pitch their ideas at UNDP's regional centre in 2020.
The initiative was co-created by UNDP and the Citi Foundation in 2017. It is operational in 25 countries across the Asia Pacific region.

GoI launches "Ganga Aamantran: Open Water Rafting Expedition"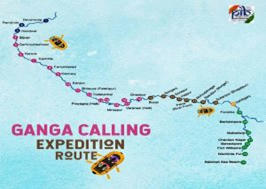 Jal Shakti Minister has launched an initiative 'Ganga Amantran'. The initiative has been launched to connect with the stakeholders of the river.
Ganga Aamantran is the 1st ever effort by National Mission for Clean Ganga to raft across the entire stretch of the river.
It is also the longest ever social campaign undertaken through an adventure sporting activity to spread the message of River Rejuvenation and Water Conservation on a massive scale.
Govt launches Food Safety Mitra Scheme

Union Minister for Health and Family Welfare Harsh Vardhan launched Food Safety Mitra Scheme," Eat Right Jacket and Eat Right Jhola". Food Safety and Standards Authority of India (FSSAI) has introduced the scheme of Food Safety Mitra (FSM) through which it plans to engage motivated individuals with the food safety ecosystem at ground level.
A Food Safety Mitra Scheme is an individual professional certified by FSSAI who assists in compliances related to FSS Act, Rules & Regulations with three avatars- Digital Mitra, Trainer Mitra and Hygiene Mitra depending upon their respective roles and responsibilities.
Make Notes