India ranked 63rd in World Bank's Ease of Doing Business Ranking

World Bank has released Ease of Doing business Rankings which includes 190 countries. As per the rankings, India has jumped 14 places and has been ranked at 63rd among 190 countries & become one of the top 10 most improved countries for the third consecutive time.
New Zealand and Somalia retained their 1st and 190th spot respectively.
The World Bank has decided to have four cities including 2 more cities Bengaluru and Kolkata from 2020 in addition to Delhi and Mumbai.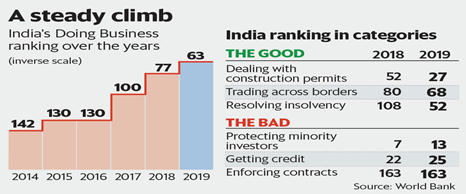 IIT-Bombay again tops this year's QS India University Rankings 2020

Indian Institute of Technology Bombay (IITB) has topped the Quacquarelli Symonds (QS) India University Rankings 2020 followed by IISc- Indian Institute of Science, Bangalore (ranked 2) & Indian Institute of Technology Delhi IITD (rank 3). This is the second time QS has published separate ranking for top institutions in India.

Bill Gates overtakes Jeff Bezos as the world's richest person

Microsoft founder Bill Gates is on course to overtake Amazon entrepreneur Jeff Bezos as the world's richest person.
Jeff Bezos lost the title as the world's richest man to Bill Gates, after losing nearly $7 billion in stock value leaving his net worth to $103.9 billion.
Microsoft co-founder Bill Gates is currently worth $105.7 billion.
Kerala tops NITI Aayog's School Education Quality Index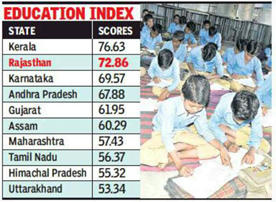 Kerala has topped the 'School Education Quality Index' (SEQI) followed by Rajasthan and Karnataka launched by NITI Aayog.
Uttar Pradesh was ranked at the bottom of the list. Chandigarh has topped the list of Union Territories.
Tamil Nadu was the top performer in access and equity outcomes, while Karnataka led in learning outcomes. Haryana had the best infrastructure and facilities.
India ranks 68th on WEF's Global Competitiveness Index

India slipped down ten places to be ranked 68th in the annual Global Competitiveness Index 2019. Singapore topped and replaced the U.S. as the world's most competitive economy.
India is among the worst-performing BRICS nations along with Brazil which is ranked 71st this year.
WEF stated that India ranks high in terms of macroeconomic stability and market size, while its financial sector is relatively deep and stable despite the high delinquency rate, which contributes to weakening the soundness of its banking system.
India was ranked at the 58th position in the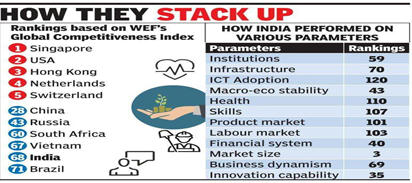 Forbes India Rich List 2019

The business magazine Forbes has released "The Forbes India Rich List 2019" which has been topped by Reliance Industries chairman Mukesh Ambani with net worth of $51.4 billion.
Infrastructure tycoon Gautam Adani, who jumps 8th spots to No. 2 this year with a net worth of USD 15.7 billion.
 The 5 of the Richest Indians in Forbes list are:
Mukesh Ambani with net worth of $51.4 billion
Gautam Adani with net worth of $15.7 billion
 Hinduja Brothers with net worth of $15.6 billion
Pallonji Mistry with net worth of $15 billion
Uday Kotak with net worth of $14.8 billion
India ranked 102 in Global Hunger Index 2019

India has slipped to 102 position in the Global Hunger Index 2019 of 117 countries, slipping from its 2018 position of 95 and behind its neighbours Nepal, Pakistan and Bangladesh.
Seventeen countries, including Belarus, Ukraine, Turkey, Cuba and Kuwait, shared the top rank with GHI scores less than 5.
There were only four countries in the alarming hunger category are Madagascar, Chad, Yemen and the Central African Republic in the extremely alarming hunger category.
The aim of the GHI is to trigger action to reduce hunger around the world.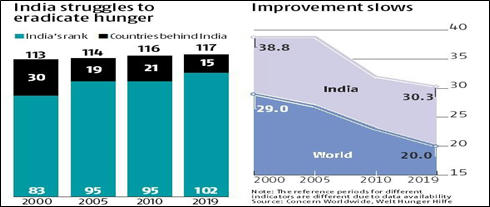 India ranked 82 in the 2019 World Giving Index

India ranked 82 spots among the 128 countries surveyed in the World Giving Index (WGI).
The average figures for India over the past decade show that 34 per cent people helped a stranger, 24 per cent donated money and 19 per cent volunteered or donated their time.
According to the WGI, the USA stood at the top followed Myanmar, New Zealand and Australia.

IMF cuts World and India growth rates

The World Bank-International Monetary Fund (IMF) annual meetings kicked off on a somber note, with the IMF downgrading global growth in 2019 to 3%, the slowest since the global financial crisis. India's growth projections have also been downgraded to 1% and 7.0% in 2019 and 2020 respectively, down by 1.2 percentage points and 0.5 percentage points relative to April projections, owing to weaker than expected domestic demand.

India's growth rate in the April-June quarter had hit 5%, the lowest in six years, as per government data. Consumption, investment and exports were down.
The IMF projected the S. would grow at 2.4% and 2.1% in 2019 and 2020 respectively.
For China, growth was projected to grow at 1% and 5.8% in 2019 and 2020.
Make Notes