PM Narendra Modi to be honoured with Global Goalkeeper Award
Prime Minister Narendra Modi will be honoured with the prestigious 'Global Goalkeeper Award' by the Bill and Melinda Gates Foundation for his leadership and commitment to the Swachch Bharat Abhiyaan.
Modi will be honoured for his leadership of the Swachch Bharat Mission, which he had launched on October 2, 2014.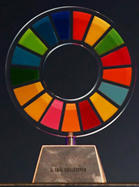 Global Goalkeeper Award', is a "special recognition" that celebrates a political leader who has "demonstrated their commitment to the Global Goals through impactful work in their country and/or globally".
Muhammad Yunus conferred 'Lamp of Peace of Saint Francis' Award
The Vatican has honoured Nobel Laureate Prof Muhammad Yunus with the 'Lamp of Peace of Saint Francis' award, which aims to honour those who work towards promoting peace and harmony.
HRD Ministry awarded Institute of Eminence status to 5 public institutions
The Ministry of Human Resource Development (MHRD) awarded Institutions of Eminence (IoE) status to five public universities:

IIT-Madras,
Banaras Hindu University,
IIT-Kharagpur,
University of Delhi and
University of Hyderabad.

Each of the above university has to sign a MoU with the HRD Ministry and will lay out its plan to achieve the objective of becoming a world-class institution. The public institutions on the list will then be eligible for a government grant of Rs 1,000
Odisha bags the IT Excellence Award, 2019 in disaster management
Odisha State Disaster Management Authority (OSDMA) has won the IT Excellence Award, 2019 for its innovative concept of use of information technology in the field of disaster management.
The "SATARK" (System for Assessing, Tracking and Alerting Disaster Risk Information based on Dynamic Risk Knowledge) application has been chosen for the award.
Chief Minister of Odisha- Naveen Patnaik
Governor- Ganeshi Lal.
5 Indian women police officers honoured by UN
Five Indian women police officers were honoured by the United Nations for their commendable services in UN mission in South Sudan.

Reena Yadav, Inspector, Chandigarh Police;
Gopika Jahagirdar, DSP, Maharashtra Police,
Bharati Samantray, DSP in the Ministry of Home Affairs,
Ragini Kumari, Inspector in the Ministry of Home Affairs, and
Kamal Shekhawat, ASP, Rajasthan Police.

The women officers are engaged in community policing, administrative, operational duties and capacity building of local authorities.
Bangladesh PM receives Dr Kalam Smriti International Excellence Award
Prime Minister Sheikh Hasina of Bangladesh was conferred the Dr Kalam Smriti International Excellence Award 2019 in Dhaka. The award has been instituted in the memory of former Indian President Dr. A.P.J. Abdul Kalam.
The award citation lauded Prime Minister Hasina for her vision of a peaceful and prosperous South Asia, free of tension, conflicts and terrorism. It acknowledged her contribution to fostering cooperation between India and Bangladesh.
Capital of Bangladesh- Dhaka
Currency- Taka.
Neena Gupta wins two awards at Boston Film Festival
Neena Gupta wins two awards at Indian International Film Festival of Boston.
The actress won the Best Actress award for 'Badhaai Ho' and her film 'The Last Color' emerged victorious in Best Feature Film category.
'The Last Color' was directed by Chef Vikas Khanna. The film deals with taboo surrounding widows in Vrindavan and Varanasi in India.
ADB president Takehiko Nakao resigns
Asian Development Bank (ADB) president Takehiko Nakao has announced his resignation which will be effective from January 16 next year. He became the president of ADB on April 28, 2013.
He expanded the operations of the funding agency from USD 14 billion in 2013 to USD 22 billion in 2018.
The new president will be elected in accordance with an open, transparent and merit-based procedure.
Headquarters of ADB- Manila, Philippines
Founded-  December 1966
Member of ADB- 68 countries.
Motto- Fighting Poverty in Asia and the Pacific
Ravish Kumar receives Gauri Lankesh National Award for Journalism
Senior journalist and Ramon Magsaysay awardee, Ravish Kumar has received the 1st Gauri Lankesh National Award for Journalism.
The award was presented to him by freedom fighter H.S. Doreswamy.
Three books, Neera Nade by Vinaya Okkunda, Dehali Nota by D. Umapathy, and Maatige Enu Kadime, a translation of Mr. Kumar's The Free Voice by Harshakumar Kugwe, were released on the occasion.
Cochin International Airport wins award for passenger satisfaction
Airport Council International (ACI) has recognised Cochin International Airport Limited (CIAL) as the best airport in terms of services it offered to passengers.
CIAL was ranked amongst the best airports in the 5-15 million category in the Asia Pacific region for the year 2018 based on annual Airport Service Quality (ASQ) survey conducted by the ACI.
Make Notes