India's first garbage cafe to be opened in Chhattisgarh
In a unique initiative, the Ambikapur municipal corporation of Chhattisgarh will open a first-of-its-kind 'Garbage Cafe'.
This initiative is a step towards making the city plastic-free.
In this unique Cafe poor people and rag pickers will get free food in exchange for one kilogram of plastic, while breakfast will be provided if half a kilogram of plastic is brought to the cafe.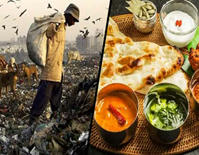 The collected garbage will be sold at Solid Liquid Resources Management Centre. The collected plastic waste would further be turned into granules and will then be used in the construction of roads in the city.
CM of Chhattisgarh- Bhupesh Baghel.
Governor of Chhattisgarh- Anusuiya Uikey.
MeitY and Google signed a SoI to roll out "Build for Digital India"
The Ministry of Electronics and Information Technology (MeitY) entered into a partnership with Google with the aim of rolling out "Build for Digital India", a programme that will give engineering students a platform to develop market-ready, technology-based solutions that address key social problems.
Mumbai at 45th spot and Delhi at 52nd in World Safe Cities Index 2019
In a report by Economist Intelligence Unit Mumbai has been ranked as the 45th safest city on the Safe Cities Index (SCI), while Delhi stood at the 52nd
Cities in the Asia-Pacific (APAC) region made up six of the top-10 safest cities with Tokyo taking the top spot.
Safe Cities Index-
The Safe Cities Index (SCI) 2019 ranks 60 countries worldwide across five continents and measures the multi-faceted nature of urban safety, with indicators categorised as digital, infrastructure, health and personal security.
India ranks 9th on "Global Happiness Survey" by Ipsos
According to a new global survey by Ipsos in India has ranked 9th in the pecking order on Happiness, among 28 nations polled.
Australia and Canada tied at the top spot (at 86 percent) and emerged as the happiest nations of the world, followed by China (83 percent).
Russia (47 percent) emerged at the bottom of the heap, among the 28 nations.
For India, there has been a six percent drop (from 83 percent in 2018 to 77 percent in 2019).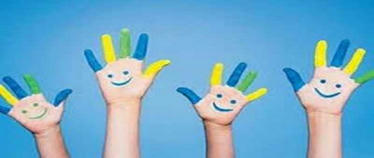 Jasprit Bumrah becomes 3rd Indian to register a hat trick in Test cricket
Fast bowler Jasprit Bumrah created history as he became the third Indian cricketer to get a hat-trick in Test cricket during the ongoing second Test against West Indies at Sabina Park.
This was the third test hat-trick by an Indian bowler after Harbhajan Singh and Irfan Pathan.
Prakash Javadekar Unveils New Logo, Certificate Design of CBFC
Union Minister for Information & Broadcasting Prakash Javadekar unveiled the new logo and certificate design of the Central Board of Film Certification (CBFC).
The introduction of a QR code in the new certificate design is in sync with the world of digital technology and will bring in greater transparency and provide information to filmmakers in a better way.

Chairman of CBFC- Prasoon Joshi.
Aadhaar for ITR filing, PAN will be auto-generated
The Income Tax Department announced that it will automatically issue PAN to all taxpayers who do not have a Permanent Account Number and are using Aadhaar for filing income tax returns (ITR).
Under this rule, the Central Board of Direct Taxes (CBDT) will obtain demographic information from the Unique Identification Authority of India (UIDAI) and issue a new Permanent Account Number (PAN).
India moves up 6 places to 34th rank on world travel and tourism competitiveness index
India has moved up six places from 40th to rank 34th on world travel and tourism competitiveness index, driven by rich natural and cultural resources and strong price competitiveness, a WEF report.
Spain held on to the top spot, followed by France, Germany and Japan, with the United States replacing the UK in the top five.
Delhi, Mumbai fall in EIU's Global Liveability Index for 2019
As per Global Liveability Index for 2019 the Capital's slipped down six ranks to 118, from the 112th spot in the 2018 Global Liveability Index, due to increase in cases of petty crimes and poor air quality, while Mumbai is now down two places at 119 mainly due to a downgrade in its culture score.
Vienna, Austria, remained the world's most liveable city for the second year running.
Headquarters of EIU's- London, UK
Founded- 1946.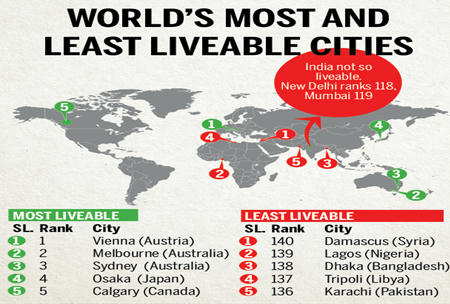 PM Modi inaugurates first cross-border pipeline in South Asia
Prime Minister Narendra Modi inaugurated the India-Nepal cross-border petroleum pipeline along with Nepal Prime Minister K.P. Sharma Oli through video conferencing on September 10, 2019.
The India-Nepal cross-border petroleum pipeline is South Asia's first cross-border pipeline. The PMO called the project a symbol of India's close relations with Nepal.
Gujarat Reduces Traffic Violation Fines under New Motor Vehicles Act
The Bharatiya Janata Party (BJP) ruled Gujarat government announced a drastic cut in the penalties for traffic violations from September 16, even as the Centre is justifying the steep fine amounts under the amended Motor Vehicles (MV) Act.
The reduction in the State is as steep as ₹1,000 from ₹10,000.
For a fine of ₹1,000 for driving a two-wheeler without helmet; in Gujarat the fine will be ₹50
For not wearing seat belts Rs 500 will be charged, as against Rs 1000.
For triple-seat riding on two-wheelers, the fine in Gujarat will continue to be ₹100 and not ₹1,000.
Driving a vehicle without Driving License will attract a fine of Rs 2000 for the two-wheelers and Rs 3000 for the rest, as against Rs 5000 under the new rule.
CM of Gujarat- Shri Vijaybhai R. Rupani
Governor- Shri Om Prakash Kohli
Kerala to set up India's first iWTC in Kozhikode
Kerala will set up India's first international women's trade centre (iWTC), in consonance with the United Nations sustainable development goals (SDGs), in Kozhikode.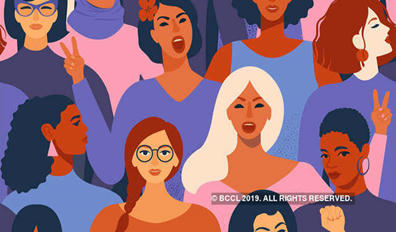 A key project of the state's gender park under the department of social justice, it is envisaged as a safe space away from home for women to harness their entrepreneurial capabilities, set up or expand their businesses and get their products marketed globally.
The first phase of iWTC, being executed under the gender park's "Vision 2020", is scheduled to be completed by 2021.
Odd-Even rule to be implemented in Delhi
Delhi Chief Minister Arvind Kejriwal announced a 7-point plan to tackle pollution in the national capital which will include the implementation of the odd-even scheme from November 4 to November 15 to curb pollution post Diwali.
The scheme is based on the last digit of the vehicle's registration number. Under the rule, vehicles with odd and even number licence plates are allowed to ply on alternate days.
 India joins global antimicrobial resistance research hub
India has joined the Global Antimicrobial Resistance (AMR) Research and Development (R & D) hub as a new member. India will be a member of the board of members of the hub from this year (2019).
The hub supports global priority setting and evidence-based decision-making on the allocation of resources for AMR research and development through identification of gaps, overlaps and potential for cross- sectoral collaboration and leveraging.
AMR is the ability of a microbe to resist the effects of medication that once could successfully treat the microbe.
Global AMR research and development hub was launched in May 2018.
Times Higher Education released "World University Rankings 2020"
World University Rankings 2020, published by the United Kingdom (UK) based Times Higher Education (THE), Indian Institute of Technology (IIT) Roparand Indian Institute of Science (IISc) Bangalorewere ranked number 1 among the 56 Indian institutes on the list of the best universities of the world. The ranking includes almost 1,400 universities across 92 countries.
As per the World University Rankings 2020, the University of Oxfordis the number one university in the world for the fourth time in a row. The California Institute of Technology stands at the second place and the University of Cambridge fell to the third rank this year.
Centre to set up 12,500 Ayush Health and Wellness Centres
Union Government has set a target of setting up 12 thousand 500 Ayush Health and Wellness Centres across the country. Out of which 4000 will be set up during this year.
The government is taking special interest towards health care of the people through AYUSH systems of medicine.
AYUSH Minister Shripad Yesso Naik said the Ministry of Ayush will cater to 1.5 Lakh Health and Wellness Centres across the country as part of Ayushman Bharat.
Rajasthan launches "Jan Soochna Portal-2019"
The Rajasthan government launched a "Jan Soochna Portal" promising to provide information about government authorities and departments to the public in the true spirit of the Right to Information Act.
The State government has collaborated with the civil society groups to develop the portal, presently giving information pertaining to 13 departments on a single platform.
The portal empowers the common people with access to useful information.
Chief Minister of Rajasthan- Ashok Gehlot
 Governor- Kalraj Mishra.
St. Vincent and Grenadines, 79th country to join India-led ISA
Saint Vincent and the Grenadines became the 79th country to join India-led International Solar Alliance (ISA), an initiative by India aimed at combating the threats of climate change and global warming.
The initiative was launched by France and India during the Climate Change Conference (COP21) in Paris in November 2015.
The International Solar Alliance is a group of 121 solar resource-rich countries with headquarters in Gurugram, India.
The organisation aims to deploy over 1,000 gigawatts of solar energy and mobilise more than USD 1,000 billion into solar power by 2030, according to the United Nations Framework Convention on Climate Change (UNFCCC).
St Vincent and the Grenadines Capital- Kingstown
Currency- Eastern Caribbean dollar.
Hyderabad-Karnataka Region Renamed 'Kalyana Karnataka'
The Karnataka government has approved to rename Hyderabad-Karnataka region of the state as Kalyana Karnataka. The Hyderabad Karnataka region comprises six north-eastern districts of Karnataka- Bidar, Kalaburagi, Koppal, Ballari, Yadgir and Raichur.
The name 'Kalya' (in 'Kalyana Karnataka') comes from Kingdom of Kalyana, which was the epicenter of Sharana movement and Vachana Sahitaya preached and followed by several social reformers.
Karnataka Capital- Bengaluru
 Governor- Vajubhai Vala.
Indian diaspora largest in the world at 17.5 million: UN Report
India was the leading country of origin of international migrants in 2019 with a 5 million strong Diaspora, according to new estimates released by the United Nations Department of Economic and Social Affairs. In India, the highest number of international migrants came from Bangladesh, Pakistan and Nepal.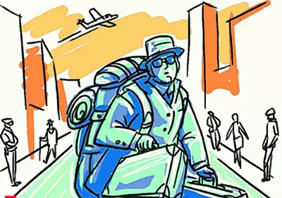 Migrants from Mexico constituted the second largest Diaspora with 11.8 million people followed by China with 10.7 million people and Russia with 10.5 million people.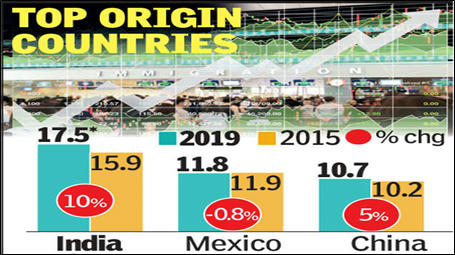 Beijing 2022: Paralympic and Olympic mascots unveiled
Beijing has released its two mascots for the 2022 Olympic Winter Games – a smiling giant panda wearing a suit made to resemble ice. The panda is named Bing Dwen Dwen — in Mandarin, and a red lantern baby called "Shuey Rhon Rhon".
Chinese lantern Shuey Rhon Rhonwas declared as the official mascot for Winter Paralympics 2022.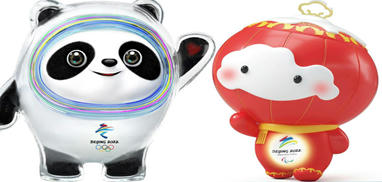 President of China- Xi Jinping
 Capital- Beijing
Currency- Renminbi.
16th Session of the Joint Economic Commission between India-BLEU
The 16th Session of the Joint Economic Commission (JEC) between India and Belgium Luxembourg Economic Union (BLEU) was convened in New Delhi on 17th September 2019.
The session was aimed to improve bilateral trade relations between India and
The Joint Economic Commission between India and Belgium Luxembourg Economic Union (India-BLEU) was established in 1997 and is the main vehicle for discussing bilateral economic and commercial issues.
Belgium Capital- Brussels
 Currency- Euro.
Actor Govinda appointed as the brand ambassador of Madhya Pradesh
Public Relations Minister of Madhya Pradesh government PC Sharma notified that Indian Bollywood actor Govinda, aged 55, appointed as the brand ambassador of Madhya Pradesh to promote the state's traditions and tourist places.
The government also has plans to set up a film city in the state.
Kerala Tourism receives three PATA Gold Awards
Kerala Tourism bagged three Pacific Asia Travel Association (PATA) gold awards, including the one for an ethnic food restaurant run by women at Kumarakom under its responsible tourism mission, in Kazakhstan.
The two other gold awards were for an advertisement campaign of Kerala tourism and for its website.
Capital of Kerala- Thiruvananthapuram
Chief Minister of Kerala- Pinarayi Vijayan
Governor- Arif Mohammad Khan.
DTC Approves Free Travel For Women In Delhi
Delhi Transport Corporation (DTC) has providing free travel to women issuing pink tickets who use DTC buses for their daily commute.
Women travelling in DTC and cluster buses will be given pink tickets having face value of Rs 10 each. The government will then reimburse the transporter based on the number of such tickets issued.
The scheme will be launched on Bhai Dooj which falls on the 29th of October and has been approved until March 2020.
Best Fifa Football Awards 2019
The "Best Fifa Football Awards 2019" felicitated in Milan.
Barcelona's Lionel Messi won the best men's player at the Best Fifa Football Awards, while Megan Rapinoe won her first at a lavish ceremony at Milan.
List-
Best FIFA Men's Player- Lionel Messi
Best FIFA Women's Player- Megan Rapinoe
Best FIFA Men's Coach- Jurgen Klopp
Best FIFA Women's Coach- Jill Ellis
FIFA Puskas Award- Daniel Zsori
Best FIFA Men's Goalkeeper- Alisson Becker
Best FIFA Women's Goalkeeper- Sari van Veenendaal
FIFA Fan Award- Silvia Grecco
PM Modi Inaugurates Gandhi Solar Park at UN Headquarters
Prime Minister Narendra Modi inaugurated the Gandhi 50 kilowatt Solar Park at the UN headquarters in New York. The launch took place during an event hosted by PM Modi- 'Relevance of Mahatma Gandhi in the Contemporary World' at the UN headquarters.
World leaders UN chief Antonio Guterres including Bangladesh Prime Minister Sheikh Hasina and President of South Korea Moon-Jae-in were also present at the occasion in New York.
The event was hosted to celebrate the 150th Birth Anniversary of Mahatma Gandhi.
J&K becomes first state to issue highest number of golden cards under Ayushman Bharat scheme
Jammu and Kashmir has become the first state in the country to issue highest number of golden cards under Ayushman Bharat-Pradhan Mantri Jan Arogya Yojana (AB-PMJAY).
Over 11 lakh golden cards have been generated within first 90 days of the launch of the scheme with 60% families having at least one golden card which is highest in the country.
Under the scheme, 155 Hospitals have been empanelled to provide free and cashless treatment to the entitled beneficiaries while as per Socio Economic Caste Census (SECC) 30 lakh poor and vulnerable families of J&K are entitled for it.
Governor of Jammu & Kashmir- Satya Pal Malik
UP govt. announces ₹6,000 annual aid for triple talaq victims
Uttar Pradesh Chief Minister Yogi Adityanath announced an annual support of ₹6,000 to the victims of triple talaq till their rehabilitation and free legal aid.
The victims of triple talaq under the Pradhan Mantri Jan Vikas Karyakram (PMJVK) and said such women should be given rights over waqf properties and also called for several welfare measures that should be undertaken for their rehabilitation.
Around 300 women from across the state attended the event.
Governor of Uttar Pradesh- Anandiben Patel
CM Kamal Nath announces Bhopal metro will be named Raja Bhoj
Madhya Pradesh Chief Minister Kamal Nath announced that the metro rail in Bhopal will be named for Raja Bhoj.
Raja Bhoj was an 11th century ruler from the Parmar dynasty which once ruled the area.
Governor of Madhya Pradesh- Lal Ji Tandon.
India ranked 44th in world digital competitiveness rankings
India has jumped four places from 48th place in 2018 to 44th rank in 2019 in World Digital Competitiveness Ranking (WDCR).
The US was ranked as the world's most digitally competitive economy, followed by Singapore in the second place.
The report measures the capacity of 63 countries to adopt digital technologies as a key driver for economic transformation in businesses, governments, and society.
The Index ranks the countries based on the following three factors:
1. Knowledge: The capacity to understand and learn new technologies.
2. Technology: The competence to develop new digital innovations.
3. Future readiness: The preparedness for the coming developments.
Make Notes